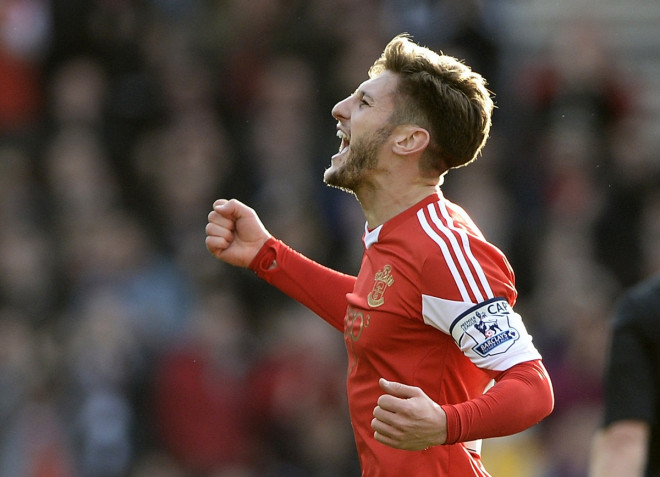 Liverpool are leading Manchester United in the race for Southampton forward Adam Lallana, according to the Sunday People.
Brendan Rodgers is preparing a £50,000 a week deal for the England international, who has been in brilliant form this season. Lallana has already been called up for the England squad and is likely to make it to Brazil for the World Cup this summer.
The player has been among the mainstays for the Saints this season, scoring nine goals and assisting six thus far and will be a major addition to any team should he make the move.
United are preparing to splash the cash this summer in order to rebuild their squad and push for the title in the upcoming seasons. The Red Devils have had a dismal year thus far - currently sitting seventh in the league, three points behind sixth placed Tottenham Hotspur - and are out of contention for a place in the Champions League.
On the other hand, Liverpool are bidding to win the title after 24 long years in waiting and have guaranteed themselves a place in Europe for the upcoming campaign. Their presence in Europe may be the titling factor for Lallana, who may choose a move to Anfield over the managerial dilemma currently going on at United, with Ryan Giggs taking over from David Moyes after a disastrous campaign.
Louis van Gaal is tipped to become the permanent manager, with the Dutchman currently plying his trade with the Dutch national team and will only be available for contention after the World Cup.
Meanwhile, Lallana has revealed that he is willing to think about his future in the summer but insists that his allegiance lies with Southampton with two games left in the season.
"I just want to enjoy my football. That's when I'm at my happiest, when I'm playing well. Playing in a great, youthful team like this I feel like one of the experienced players nowadays. I just want to concentrate on the last two games of the season and we'll sit down in the summer and see what happens," Lallana said.