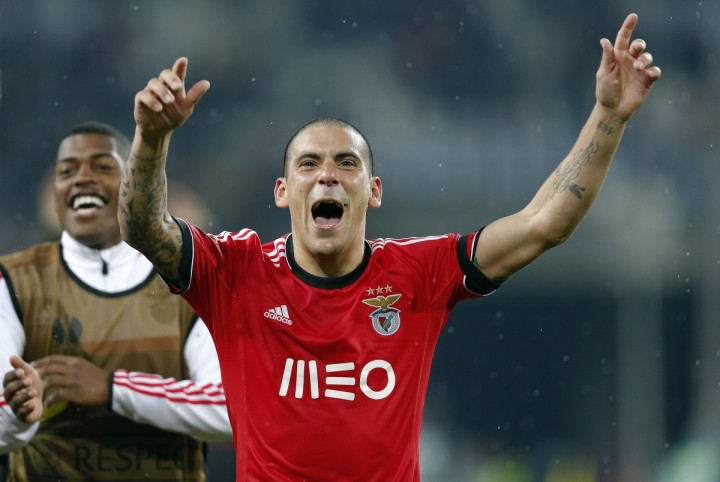 Liverpool are considering an approach to sign Benfica defender Maxi Pereira this summer, according to the Express.
The Merseyside club currently have the services of Glen Johnson as their first choice right-back in the squad. The England international's contract at Anfield runs out at the end of the next season and there is no chance of a new deal.
Newly promoted side Queens Park Rangers are believed to be planning a raid on signing the Reds star as their manager Harry Redknapp is keen on acquiring Johnson's services in the summer transfer window.
With the former Chelsea man's future at Anfield looking uncertain, Liverpool manager Brendan Rodgers is planning to bring in reinforcements to strengthen his side's right-back position.
Liverpool will feature in the Champions League next season and Rodgers is keen on improving the squad depth. The Anfield club have already made initial enquiries about the Uruguayan international and are looking to bring Pereira to Merseyside this summer.
The Northern Irishman has set his sights on Pereira, who was a part of Uruguay's squad for the World Cup. However, the South American nation were knocked out in the Round of 16 after their 2-0 defeat by Colombia.
Pereira has one year left on his contract at Benfica and has hinted that he could leave the Portuguese champions this summer.
"I need to dedicate myself to the family. Then I'll be ready to start with the batteries recharged," Pereira told the Portuguese newspaper Record.
"I said, as of this moment, I will rest. And I will be quiet. Then we'll see. In principle, I'm thinking back to Benfica after the holidays. What were to happen, we'll see. I will not guarantee anything because I do not know."