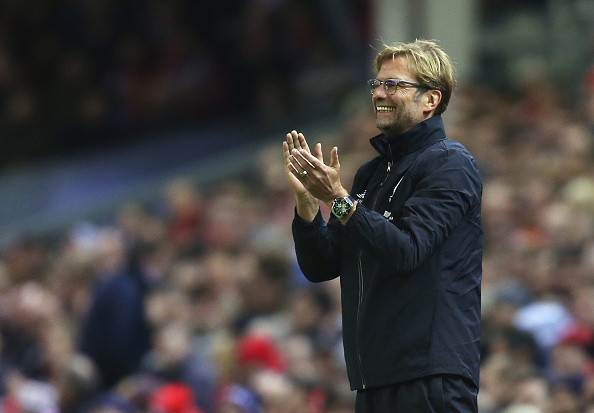 Liverpool manager Jurgen Klopp has confirmed that James Milner, Jordon Ibe and Kolo Toure are ready to return to action ahead of the trip to Manchester City on Saturday (21 November) but warns that the game may still come too soon for Daniel Sturridge. The manager, meanwhile, provided an optimistic injury update on the recoveries of Jordan Henderson, Jordan Rossiter, Jose Enrique and even Mamadou Sakho after revealing the French centre-back's injury is not as serious as first thought.
Milner missed the defeat against Crystal Palace before the international break due to an injury, while Ibe sustained a knee problem during the game – with both respectively being ruled out for the England and England Under 21 duty.
But speaking in a press conference ahead of the game, Klopp has claimed that the duo, as well Kolo Toure, have taken advantage of the break to recover in time for the visit to the Etihad Stadium.
Sturridge, meanwhile, recently declared himself "fit and ready to go" ahead of the game against the leaders. The manager, however, has claimed that he will still have to decide whether he includes the striker in his squad after the England international had been out of action for a long time while plagued by recurrent injuries since the start of last season.
"He is as fit as he can be after this long break. He has trained with us. Of course he is not at 100%, so now we will have to see," the manager said. "I don't know what I will do tomorrow when I name the squad. I have to think about it. His quality is outstanding, we don't have to talk about it, but like everybody he needs training.
"Today was his third full exercise with the team after four-and-a-half to five weeks break. But as a striker sometimes five minutes are enough, so we'll have to see. I have to decide this tomorrow – and I'll start thinking about it after the press conference."
Sakho was expected to be on the side-lines for around two months after he damaged the ligament of his knee against Crystal Palace.
But Klopp said: "Mama is good news. It's not that serious as we thought in the first moment...
We don't want to give you a time – you can ask every day – but it's not Christmas 2016! So that's good. Between now and 2016! [Laughs] It's good news, it's not too serious."
Meanwhile, Rossiter will return to training soon, as will the captain Henderson, who has been out of action since mid-August, after suffering a heel problem earlier in the season and then breaking his fifth metatarsal in training during his recovery.
"[Henderson] is in a really good way," said the manager. "Next week, maybe parts of team training, we will see. But he's in a really good way.
Speaking about Rossiter, he added: "He will start on Sunday [22 November] with normal team training. He finishes his rehab tomorrow and will be in team training on Sunday."
The former Borussia Dortmund coach also suggested that Jose Enrique is back in training following a hamstring injury and that he is ready to hand the Spaniard a new chance to rescue his career with the Merseysiders after being exiled by former manager Brendan Rodgers.
"All the players are back now, and now we have two or three days to take the last steps before we go to Man City. We only had eight players here [during international break]. Jose Enrique was able to train for the first time since I've been here," the manager added, as quoted by The Telegraph.