Jamie Carragher may have announced his decision to retire from playing professional football but it seems a host of his former teammates believe he will quickly return to the game in a coaching capacity.
Former Liverpool striker Michael Owen played alongside Carragher for more than six years and was one of the first to comment on the news.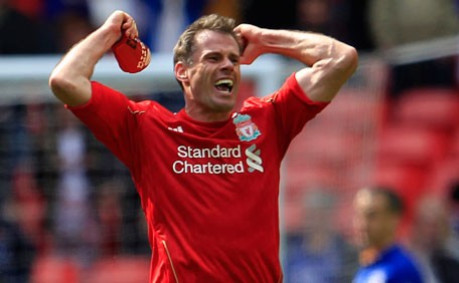 "We roomed together for six or seven years at Liverpool. All the superlatives have already been said, but he has a special place in my heart," Owen told BBC Radio 5 live.
The Stoke striker believes that Carragher will look to move into management but stressed that he would not want to stray too far from his home in Liverpool.
"I think he's a home boy and he's got a family, two young children in Bootle in Liverpool. I'm pretty certain he would love to go into management but I'm not sure he'd want to go too far afield," added Owen.
"He's capable. He's an encyclopedia of football. He's certainly got the credentials and I'd hazard a guess he would [like to go into management]."
Carragher's former England colleague and great Manchester United rival Rio Ferdinand was another to suggest that the 35-year-old would be ready to make the move into coaching.
"[sic] Jamie Carragher has been a great servant to Lfc. Great player&a top fella! Funny guy! Nutter when we were kids but management material now," tweeted Ferdinand.
Carragher made some 496 Premier League appearances and currently stands as second in the list of all time appearances for Liverpool with 723.
He made his Liverpool debut all the way back in 1996 and even scored on his first start in the Premier League against Aston Villa. Carragher would go on to become a legend at the club and was instrumental in helping the side win the Champions League in 2005.
Carragher made a big impression of fans and fellow professionals and another former Liverpool defender, Jason McAteer, believes that he will have plenty of offer the club in a coaching capacity.
McAteer told BBC Radio 5 live: "He reads the game extremely well. His organisation skills are certainly there and he's still got life in him yet. I hope Liverpool keep hold of him in some capacity. I think he's a dying breed, he's tough and knows Liverpool inside out,"