Joe Allen believes that Lucas Leiva's return to the first team will help Liverpool reach their target of finishing in the top four and achieving Champions League football.
The Brazil international returned for the 1-0 win over Southampton at the weekend as he made his first appearance for the club after three months out with a thigh injury.
Lucas appeared to make a big difference in the Liverpool midfield as his ability to break up the play allowed Allen to push further forward and dictate the play from a more advanced role.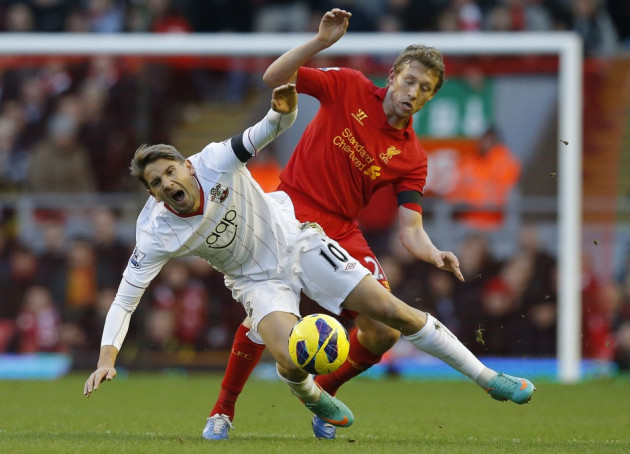 With Lucas back in the heart of midfield, Allen believes Liverpool will begin to show their best form and will be able to make ground on fourth placed Tottenham who are only seven points ahead of Brendan Rodgers' side.
"You're always going to miss quality players like Lucas and it's great to have him back in the side," Allen told the Liverpool Echo. "When he pulled up injured in the Man City game it was a bitter blow.
"He had worked so hard to get back from the knee injury.It was a disappointing setback on a personal level but also from the football club's point of view.
"His return, with the steel and quality he brings, is only going to help the team going forward. It's a very important role. If you look at the top teams, they all utilise that position and have a quality player there.
"Lucas is vital for the way we play. With him back playing, I'm sure we'll get the benefits of that in terms of points and our position in the table."
The return of Lucas also allowed Allen to demonstrate his ability in a more advanced role, and the Wales international was glad to show the supporters what he is capable of.
"That's more my natural position," added the 22-year-old. "I haven't played there for a while so I found myself trying to get back into the swing of things but it was great to be part of a victory.
"I had that security of knowing that Lucas was there. It gives you the chance to express yourself further up the pitch, and try to get involved in creating and scoring goals."
Allen also admitted that Liverpool are still hoping to challenge for a place in the top four, and despite currently lying in 11th place, they are just seven points behind Chelsea in third.
"For a club like Liverpool, that has to be our target," stated Allen. "We've closed the gap a bit and we have got a run of games now where we want to pick up points and further reduce that deficit.
"After the disappointing defeat at Spurs when the performance level was high, we needed to get three points in front of our home crowd and we did that. The only frustration was that we didn't score more goals.
"When you play against any team at this level and it's only 1-0, there are going to be moments when you leave yourself vulnerable. But we saw the game out reasonably comfortably and we want this to be the start of another long unbeaten run."