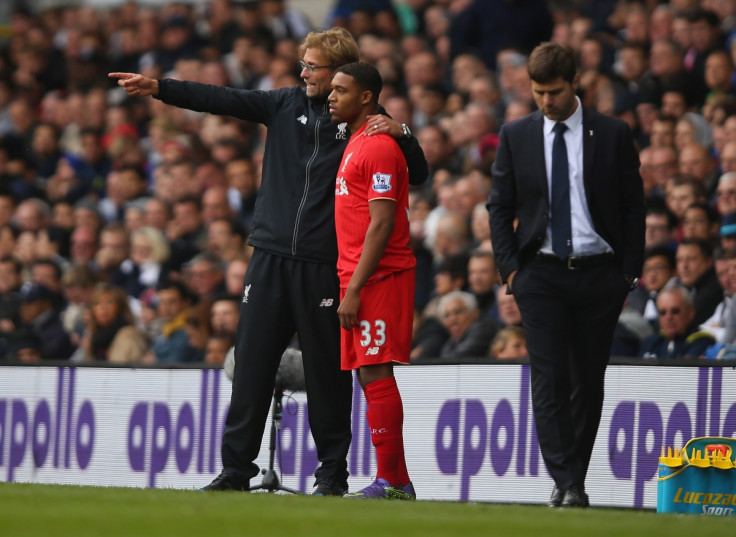 Liverpool boss Jurgen Klopp has expressed his delighted with the response of his young players and fringe stars during the 1-0 victory over Bournemouth in the Capital One Cup on 28 October. Cameron Brannagan, Connor Randall and Joao Carlos Teixeira were handed first-team debuts as starters, while young duo Jordon Ibe and Divock Origi also made a line-up full of fringe stars in order to rest some key players ahead of the Premier League game against Chelsea.
The former Borussia Dortmund manager admitted it was a gamble to make nine changes to his starting line-up following the previous game against Southampton but he said the final result paid off.
"If it didn't work, it's my responsibility, my mistake, not theirs. But if they do well, it's their victory – so that's a cool deal. I'm really glad they did well. They came into the game better and better," Klopp said.
The manager did not hesitate to give his verdict on the individual performance of each player, praising the three debutants for how they coped.
"For Cameron it was a difficult position. We didn't close the space in the first half, so for Joe [Allen] it wasn't so easy. We talked about it at half-time; we had two really wide wingers so there was big space to defend. So it was really intensive for this young guy," he said to the club's website. "Then they played all of their long balls on the side of Connor – he had to make 20 to 40 headers! He made them better and better each minute.
"Teixeira, all I have seen until now in training is really good. He's a good guy, he wants to learn, to improve and progress. Everything is OK."
Klopp, meanwhile, suggests 19-year-old Ibe will have many more opportunities during the season, especially if his side plays with wingers, but said the player still needs to improve his defensive skills.
"We don't have to talk about [Jordon] Ibe; if we play with wingers, he is a real opportunity for us. He's a big talent and he's really learning what it means when I talk about defending, because you can't only play offensively. He's a good boy and we'll have fun with him," Klopp said. "It was a very important game too for Joe Allen. It was so difficult because we only had one hour to train what we did. Then you're the only man in the middle of the field and it's not easy to defend. The second half was brilliant from him, he really played well."
"Then we brought Lucas [on] and it was easier. For Dejan [Lovren] it was very important. Clyne as left full-back – I hope he can do the same on the right side!"
Klopp also claimed 20-year-old Origi will learn from his faults as the Belgium international is yet to score a goal for the Reds despite having being his starting number nine in his first four games on charge at Anfield. "Divock [Origi] is working hard," he said. "It's always the most difficult position in football. If you are young and everyone wants you to be experienced, that's not possible. So you have to make your faults; he makes his faults but he will improve, I'm sure."