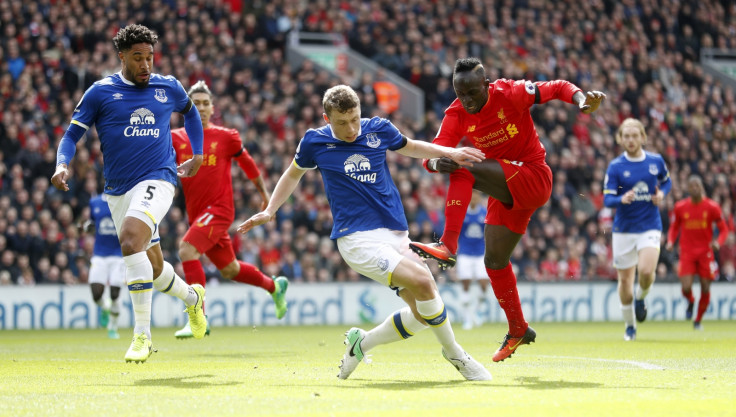 Liverpool managerJürgen Klopp says Sadio Mané's injury is the sole negative in what was an otherwise successful afternoon for the Reds as they comfortably defeated city rivals Everton 3-1 at Anfield on Saturday (1 April).
Mané, who scored the opener as Liverpool coasted to victory, suffered a nasty-looking ankle injury early in the second half and seemed to be in severe pain as he limped off the pitch. Klopp hopes that the knock to his talismanic forward is not serious, but does not think he will be available for his side's game against Bournemouth in midweek.
Speaking after his side's victory over a rather sorry Everton, Klopp told Liverpool's official website: "Today we played a really good game. Nearly everything was perfect, we win it, the performance was good [but] then we lose Sadio Mané. When I saw him in the dressing room, it didn't look like he'll be ready for Wednesday.
"We will see, hopefully, it's not that serious, but of course it's not nothing and that makes our life not easier, I would say."
Mané's injury was the result of a rather innocuous challenge by Everton defender Leighton Baines. He tried to soldier on after receiving lengthy treatment but collapsed to the floor as he attempted to put weight on the problem area.
A long-term injury to Mané, who scored the winner in the reverse fixture against Everton in December, would seriously derail Liverpool's Champions League hopes. Klopp says the severity of the injury is not yet known but seemed to suggest that the 24-year-old has suffered ligament damage.
"I don't know exactly (what the injury is), I don't want to speculate now," the Liverpool boss added. "Obviously he has pain and it didn't look like it's only a knock or a muscle or something, but we have to wait. When I came in I was looking for him immediately and I saw him on the bed. He'd already had treatment, and it didn't look like he felt really comfortable."