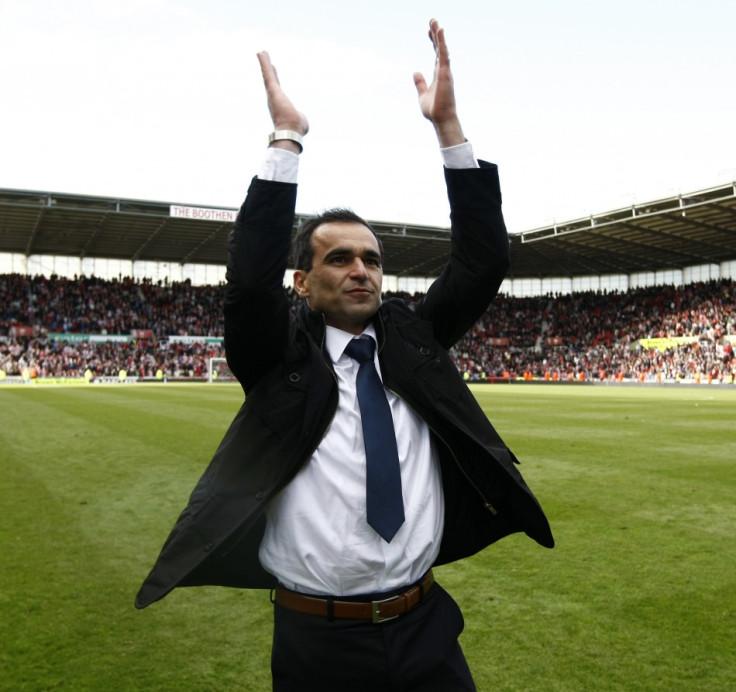 Fenway Sports Group (Liverpool owners) have reportedly been given a 48-hour deadline by Wigan Athletic chairman Dave Whelan to determine whether they want the Latics boss Roberto Martínez as their new boss, according to a Guardian report.
"Roberto has told me he is speaking with Liverpool again on Tuesday. I have now made it clear that I want this sorted out by Thursday at the latest as we have to get on preparing for next season," The Sun quoted Whelan as saying.
The 38-year-old Spanish boss, who was scheduled to make an announcement regarding his future on Tuesday, will now be making his decision on Thursday, when Liverpool owner John W Henry meets Whelan for a second time.
Although, Whelan said that he had had "constructive talks" during his first meeting with the Reds American owner in Miami last Thursday, he revealed that a formal offer for Martinez had not been made by Liverpool.
This is because Henry and Tom Werner (Liverpool chairman) wanted to meet up with other shortlisted candidates for the Reds managerial position before settling down to a final decision. Apart from Martinez, Liverpool also seem to be interested in Swansea City boss Brendan Rodgers. However, the 39-year-old seems keen to remain with the Swans as Rodgers had earlier rejected a chance to hold talks with the Reds just after Kenny Daglish was axed.
Nonetheless, the Reds are still hoping that Rodgers will change his mind despite Swansea chairman Huw Jenkins thinking otherwise.
"We would like to clarify the speculation in the press surrounding our manager Brendan Rodgers. We would like to confirm that there has been no contact from Liverpool and nothing has changed since our previous statement on the issue," read a statement from Swansea, according to ESPN.
Meanwhile, Liverpool have reportedly no plans to hold talks with their former manager Rafael Benítez. Also they seemed to have lost their interest in former Chelsea boss André Villas-Boas. However, Dutch coach Louis van Gaal, who was being backed by forward Dirk Kuyt, seems to be a strong contender for this vacant managerial position despite their, again, being no formal approach.
In spite of all the chaos including criticism for taking a lot of time to find the Reds new manager plus the Thursday deadline given by Whelan for Martínez, Liverpool will surely not rush into this important decision, which could greatly affect their campaign next season.