Manchester United and Liverpool have been boosted in their pursuit of Brazilian defender Dede after the centre-back's club Vasco da Gama confirmed there has been no official offer from AC Milan.
United have been connected with a deal for Dede for some time, and more recently Liverpool were also believed to be chasing the 24 year old.
In just over three years at Vasco, Dede has established himself as an important part of the starting line-up and has provided so much needed continuity in the backline.
Both Liverpool and United are said to be monitoring his situation, with AC Milan having also recently become involved in speculation, but president Roberto Dinamite says no formal offers have yet been made.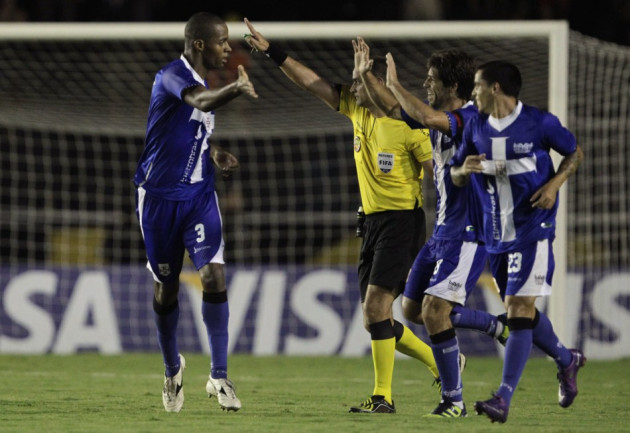 "I read that (on the proposal of the Italian club), but is more journalistic news than hard fact," he told Brazilian paper Lance!. "There is nothing official that has come to us. Without it, we cannot open negotiations. We must do what is best for Vasco and what is best for the player himself.
"There is a price. We need to see if Milan intends to reach that number, then we talk. Of course, the player likes Milan and the club has a great charm. The player can perform very well in Italy and has a potential of great quality. Let's see if we get a great proposal."
Vasco da Gama are reportedly close to liquidation as a club, struggling to pay player wages as well as a hefty tax bill. And the possibility of selling off Dede for around £15 million would certainly be an attractive deal for the side.
Dede would fit perfectly into a Liverpool squad crying out for centre-backs, with the position said to be at the top of Brendan Rodgers' agenda for the summer.
Meanwhile, Sir Alex Ferguson will no doubt be looking to build on his defensive line-up after a rocky season for his back line. At the start of the season some described the United defence as the worst seen under Ferguson's reign, and with fellow Brazilians Rafael and Fabio da Silva at the club, he could be tempted to move to a side who can offer Champions League football immediately.