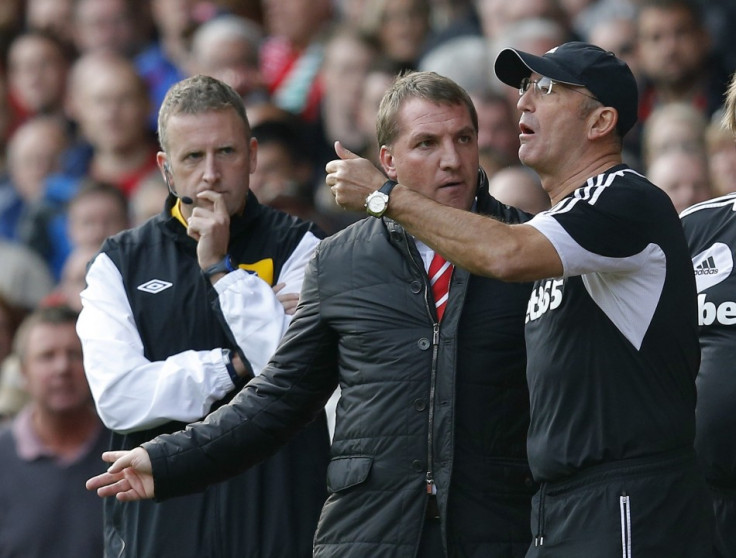 Brendan Rodgers has asked for more time to turn Liverpool's fortunes around.
The Reds played out a goalless stalemate at Anfield in their last league game, against Stoke City, and are presently 14th in the league, with six points from seven games. The Merseyside outfit are also still to register their first home win in the league this season.
"It's just time, unfortunately. I think there is a real bright future here. It is more or less the same players I inherited and I've brought in one or two who have done really well. It's just going to take that wee bit of time," the Liverpool Web site quoted Rodgers as saying.
The manager also hailed the Anfield faithful for their incredible support during this tough patch and is confident the fans will help Liverpool find positive results soon.
"They're showing they are really behind what we're trying to do. Other clubs wouldn't get that support. The only way is by working hard and getting results on the field. The supporters are absolutely incredible," the Northern Irishman pointed out.
Happy with Attitude against Stoke
Finally, while acknowledging he was disappointed with only a draw against Stoke City at home, Rodgers added he was delighted with his players' positive attitude and approach.
"We stood up to the real physicality of the game, which was a big plus. If you can play against Stoke physically, especially with so many young players in the team and so many technicians, then you know you're going to be alright in your other games," Goal.com quoted the 39 year old.
"I thought as the game wore on we got into good spaces and areas of the field but just that final touch or final decision at the end of it didn't quite allow us to score. So we're disappointed not to win but as I said there were a lot of real positives from the game and our first clean sheet of the season which is important," Rodgers added.