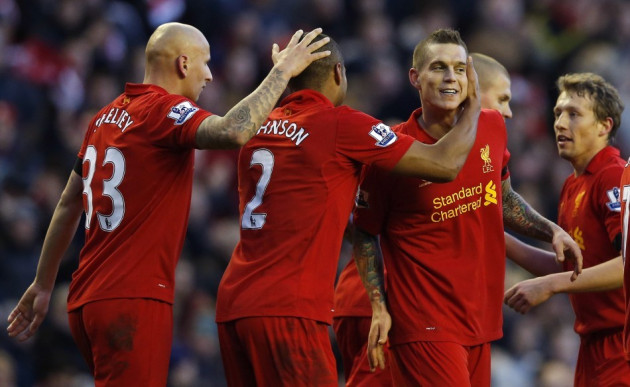 Liverpool defender Daniel Agger has revealed that he was struggling to cope with his ouster from the team but insists that he has managed to get over his troubles.
The Denmark international made his first appearance in over two months against Fulham where the Reds hammered the Cottagers 4-0 and made their way into second position in the league table. Brendan Rodgers' team have won seven and drawn two of their last 11 fixtures and are looking set to make their way back into the Champions League. However, with some big fixtures coming up, Rodgers will need his men, especially his defence, to be in top shape if they have to maintain their position in the top four.
Rodgers' men were woefully exposed in their game against Arsenal where the Gunners overpowered their midfield and cut through their defence with consummate ease. Kolo Toure made way for the Dane after an underwhelming performance against his former employers and Agger is hoping that his performance against Fulham will open doors for his return to regular football.
"It's been difficult. I want to play every time, in every single game, so when you're not playing it's difficult. But, when that is said, I just have to work even harder every single day in training, not complaining and just doing everything that little bit extra. I feel I belong there. I feel I'm more than capable of being in the team, but it's the manager's decision," Agger said.
"Sometimes, that's difficult to change in training. You need to grab the chance when it's there and that's what football is about, taking your chances. The competition for places has always been intense here, and it should always be. That's a good thing because we want to win something," he added.
Meanwhile, Agger revealed that the team is revelling at the prospect of playing Champions League football and their position in the league table is an inspiration which they want to pursue.
"All the guys here, they want to play Champions League again. It's where you want to be because that's where all the best players and all the best teams are. We definitely want to be there," Agger concluded.