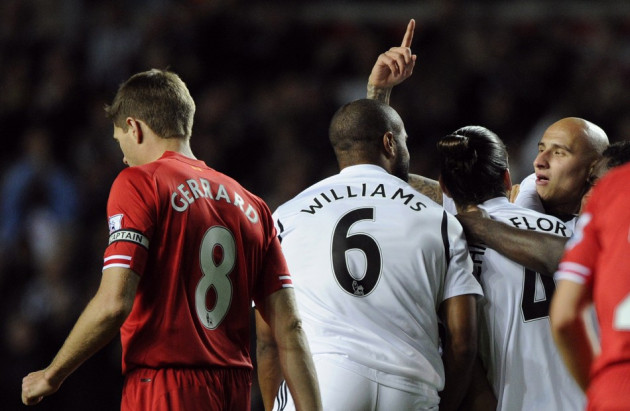 Jonjo Shelvey has apologised to Swansea fans after his performance against Liverpool where the midfielder inadvertently created two goals for his former club on Monday night.
Swansea went up 1-0 within two minutes of the game thanks to Shelvey, but a grave mistake by the 21 year old led to Daniel Sturridge cancelling the goal out in the fourth minute.
Victor Moses put Liverpool up before half time thanks to another mistake from the midfielder, but after Michael Laudrup chose to leave Shelvey on the pitch the England international created the equaliser for Michu in the 64th minute.
Some claimed that Shelvey deserved man of the match for having both a positive and negative effect on his team over the course of the match and the youngster has admitted that he wanted to hide away after creating Sturridge's goal.
He told reporters: "I just want to say sorry to the Swansea fans for the two bad mistakes that gifted Liverpool a draw - I thought we deserved more than that.
"You just want to go into a hole where nobody can see you, but it has happened to great players over time.
"I showed a bit of character to keep getting on the ball. I still feel I have given Liverpool a draw but it was a great game to play in."
Rodgers had offered Shelvey the chance to stay at Liverpool this season and fight for his place but the former Arsenal and West Ham youth player chose guaranteed game time at Swansea and made the switch in the summer.
And while Rodgers acknowledges this was a risky move he says that games like this will be a great learning curve for Shelvey as he aims to evolve into a great player for club and country.
"He is a boy who has made a brave decision to leave a club like Liverpool," the manager explained. "But tonight is why he left, because it is about learning for him.
"He took his goal really well but then got punished when you are playing against good players.
"Sturridge is lethal and will be one of the top strikers in Europe over the next couple of years."