Liverpool midfielder Lucas Leiva is confident he is back to his best after surviving a series of injuries which kept him sidelined for the better part of last two seasons.
The Brazilian's injury problems, which started with an anterior cruciate ligament injury in December 2011, was exacerbated by a torn thigh muscle in August, keeping him out of action for another four months this season.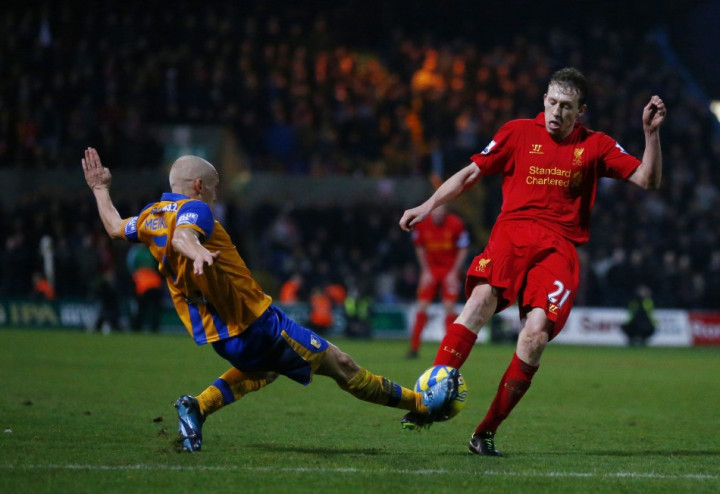 Lucas had come into the forefront at Liverpool with some consistent performances, after Javier Mascherano's transfer to Barcelona in 2010. Injuries have had a major toll on the player's form but the midfielder believes he is now slowing getting back to his best and hopes to have a positive impact on the remainder of the season.
"I am not there yet but I feel I am getting very close to my best level. It feels like a good time again. I was sure if I worked hard, I could make it happen. I'm very happy it has. After Pepe [Reina] and Daniel [Agger], I have been the longest here. [Jamie] Carragher and Stevie [Gerrard], of course, are out on their own but each season you are here, your responsibility grows. I am not a kid anymore. I have responsibilities and to be a role model for these kids is something that makes me really proud," the 26-year-old said.
Brendan Rodgers is in the market for a defensive midfielder in the summer, with the Reds being linked with a move for Celtic's Victor Wanyama. However, Lucas will be hoping his performances at the end of the season would be enough to dissuade the former Swansea manager from looking elsewhere.
Lucas, who has recently signed a new long term contract with Liverpool, reminisced on the difficulties he faced after his transfer from Gremio in 2007, including not being able to understand the language and having difficulty with the English food.
At first I couldn't speak the language, I didn't have many friends and family was not here. The food was different and the city was new but I lead a quiet life and those aspects were not too much of a problem. I just felt that if I could handle it all, I'd get there," he added.