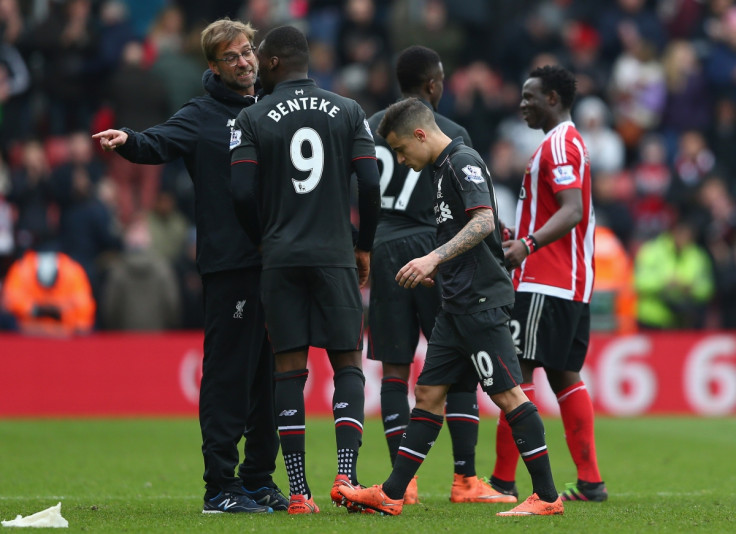 Liverpool have not played to Christian Benteke's strength and that is the reason for the striker's struggle, according to former Reds frontman Neil Mellor. The 25-year-old was signed by Brendan Rodgers from Aston Villa last summer and was a regular inclusion in the starting lineup under the Northern Irishman's guidance.
Rodgers was shown the exit door and was replaced by Jurgen Klopp last October. Since the arrival of the former Borussia Dortmund manager, the Belgium international has struggled under him and has also lost his place in the starting XI.
Benteke and his club and country teammate Divok Origi both suffered injuries while on international duty. Mellor says the latest injury setback could be a blow for Liverpool and admitted he is unsure if the striker will be at Anfield next season.
"He's cost the club a lot of money but I don't think the team have played to his strengths. He seems to have altered his whole game to try and fit in and you see him moving into areas he wouldn't normally go into and doing things that don't come naturally to him," Mellor told the Liverpool Echo.
"Whether he has a long term future at Liverpool remains to be seen."
"He's withdrawn from the Belgium squad with injury now and this is always a nervy time for clubs like Liverpool with lots of players away on international duty."
Benteke missed a chance to give Liverpool the lead against Southampton and minutes after that incident, Sadio Mane scored the winner for the Saints as they came from behind to win the tie 3-2 at St Mary's Stadium. He has already expressed his unhappiness over the lack of opportunities under Klopp.
After the final whistle, Klopp was seen having a heated discussion with the former Villa man. Mellor gives his verdict on the incident after Liverpool's defeat to Southampton.
"The missed chance from Christian Benteke was a moment that let Southampton back into the game and it was intriguing to see Jurgen Klopp speaking to him on the pitch afterwards," he explained.
"The thing that everyone loves about Klopp is that he always shows so much passion. He was clearly trying to communicate some kind of message to Benteke but whether he was having a go at him for missing the chance or discussing something else we don't know.
"Benteke would want to keep any ridicule to the changing rooms but it seems clear that his confidence has been dented at Liverpool this season."