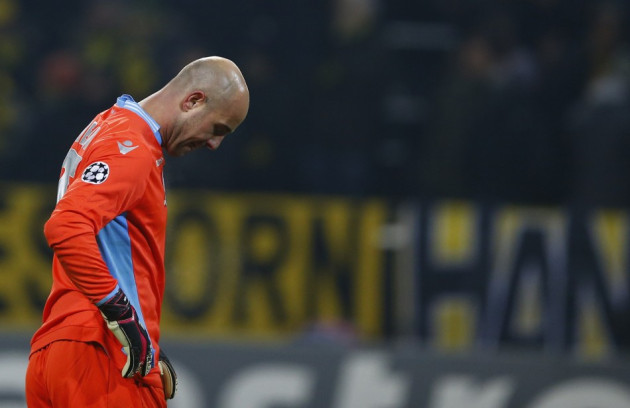 Liverpool's forgotten man Pepe Reina could soon be left in a state of limbo as Barcelona edge closer to securing a deal for Borussia Monchengladbach goalkeeper Marc-Andre ter Stegen.
The Catalan giants are still looking to address who will be their number one choice in goal next season with long-serving custodian Victor Valdes set to leave the club at the end of his contract this summer.
Reina, currently out on loan with Napoli, has made it clear under no uncertain terms that he wishes to return to his boyhood club and replace Valdes once his loan deal in Serie A expires.
But that spot may be preserved for 21-year-old ter Stegen, whom Barcelona vice-president Josep Maeia Bartomeu has previously identified as a possible candidate. Monchengladbach are expected to make their decision whether to cash in on the German 'keeper at the end of the year, with the club now believing the transfer is 50-50.
"We have agreed to wait until the final two games. We have played one now," Max Ebrel, the Bundesliga club's sporting director was quoted as saying in Der Westen.
"There comes a time when all the thinking about what's next needs to be over and this leads to a decision. Hopefully the right one.
"It's a 50-50 chance. We talked to him a lot and in the course of time we have also given thought to it. I have hope."
Should Barcelona succeed in bringing ter Stegen to the Nou Camp, Reina's future after the current season will be less certain. With Simon Mignolet now firmly Liverpool's first choice, a return to Anfield for the former Villarreal shot stopper seems very unlikely.
With no deal in place to potentially sign the goalkeeper on a permanent basis in the summer, Reina's spell with Napoli may only last one season. And with the highly rated 23-year-old Rafael Cabral - signed for a fee of €5m last summer - pushing to challenge Reina for the number one spot, the latter may have to consider options further afield.
Atletico Madrid, where Pepe's father starred for seven years, have also been suggested as a possible destination. Chelsea loanee Thibaut Courtois has guarded the club's nets for the past three seasons, but with the Belgian international's reputation growing exponentially, the Blues may choose to recall him next season, leaving a vacant spot at the Vicente Calderon.