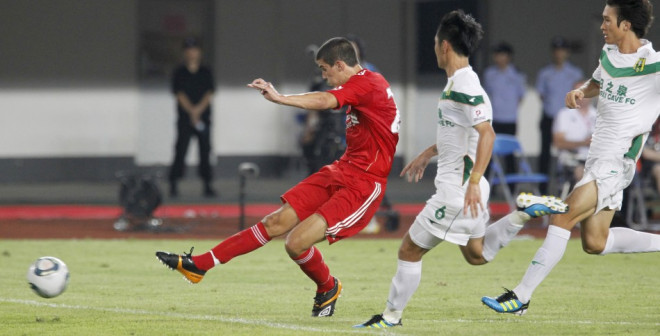 Liverpool youngster Conor Coady hopes Brendan Rodgers gives him the chance to prove his worth next season, as the manager has done this campaign with youngsters Raheem Sterling and John Flanagan.
The 21-year-old midfielder was sent on loan to Sheffield United last summer to continue his development. He helped his side to qualify for the FA Cup semi-final while scoring five goals and notching four assists in 32 domestic league starts.
After Sterling and Flanagan earned a place in Rodgers' plans this season, Coady believes that he can replicate his mates' achievements in the future.
"You have seen what the manager does - he gives young lads a chance. Hopefully I can carry on working hard, carry on improving and we'll see what happens," he told Liverpool's official website.
"You see that when the young lads go in, they do a great job. We've got some fantastic young players here. I just need to keep working and improving, and hopefully I can get that chance."
On Wednesday Coady was part of Rodgers' side during a 4-0 victory over Shamrock Rovers in their post-season friendly, and is now looking forward to more chances next season.
"It [the Shamrock game] was fantastic. It's a wonderful ground and with that many supporters in the ground, you can't not like it.
"It was great for me. I've supported Liverpool since I was a boy, so to do it for the first team, no matter what game it is, is a fantastic experience. I loved every minute of it."
After his season in Sheffield, Coady claims that he is now ready for a bigger challenge.
"It has helped me massively as a player and a person," he said.
"Coming back here, hopefully I can show what I learned from being on loan. The club was fantastic and I've got nothing but good things to say about Sheffield United."
Coady is considered one of the most promising players in the England academy, having captained the Under-17 team that won the Euroean Championships in 2010 and played a key role during last summer's Under-20 World Cup.