England Superkid Looks Up To Gerrard and Suarez
Raheem Sterling has revealed he continually seeks advice from Steven Gerrard and Luis Suarez, with the youngster hoping to stay at Liverpool for the long term and prove he has staying power in the starting line-up
Raheem Sterling has revealed he looks up to Steven Gerrard and Luis Suarez at Liverpool, with the England international taking his new found fame in his stride and planning on being a top player for the Reds in the future.
Sterling made a breakthrough into the first team this season, with Brendan Rodgers struggling for options after failing to land a striker in the summer transfer window, and the 18 year old has so far been impressive and capable of competing alongside much more senior players.
He's featured in some of Liverpool's biggest games of the season, but Sterling insists he's humbled to be standing alongside the likes of Gerrard and Suarez, and hopes to play alongside and learn from them for a very long time.
"I'm always learning from people like Steven Gerrard and Luis Suarez," he said in the Daily Mail. "On the pitch, I couldn't ask for better people around me at Liverpool, like Gerrard and Suarez who have been there and done it. I take stuff from their game, from the way they are, and I try and take that on.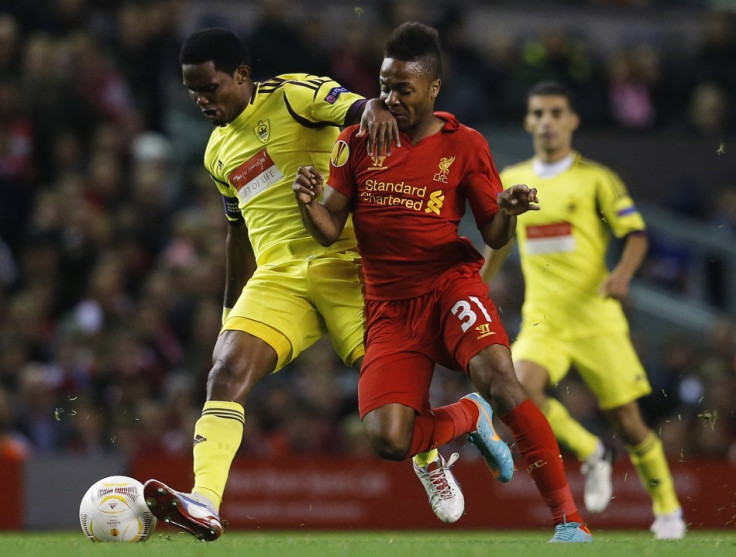 "Everyone is willing to lend a ear, to give you advice, guidance. You don't have to ask, the old boys are always down your neck and down your ears telling you how to get better. It's great to have them around."
While Sterling refused to say that he hopes to be like another player at Liverpool, he made it clear he looks up to Suarez's skills and ability, and hopes to take any lessons he can from the Uruguay international on the pitch.
"I don't want to model myself on anyone," he explained. "I see players that have achieved so much, but it isn't clever to model myself on them because their journey is different.
"I take the best bits from lots of players. We have so many world class players at Liverpool. Someone like Suarez, I take so much of his play and make it work for me."
© Copyright IBTimes 2023. All rights reserved.