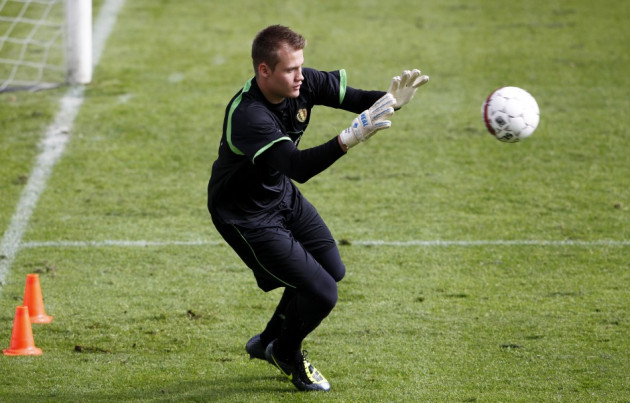 Belgian goalkeeper Simon Mignolet is determined to grab his first opportunity to impress new manager Brendan Rodgers as he looks to become Liverpool\'s new number one ahead of Pepe Reina.
The 25 year old was brought in to add depth to the Liverpool squad after an impressive season with Sunderland in which his stock firmly rose.
While there had been much speculation that his arrival would spell the end for Reina it seems the Spain international will remain at the club and fight for his place in the starting XI.
With years of top level experience under his belt, Reina will feel he is still first choice but Mignolet is used to battling with other goalkeepers, having done so at Sunderland for his national side where he has a friendly rivalry with Chelsea stopper Thibaut Courtois.
Mignolet admits that he is looking forward to proving his worth and hopes he soon gets the opportunity to impress.
\"Competition is going to be in every single club,\" the Belgian revealed during his first Liverpool press conference on Wednesday.
\"I had competition back in Belgium with the local team, I had big competition at Sunderland where there was Craig Gordon, Keiren Westwood and other international goalkeepers and I had big competition with the Belgium national team. So that\'s not going to change.
\"Everywhere you go, especially when you go to a bigger club, there\'s always going to be a fight for places and definitely when you\'re a goalkeeper because only one can play.
\"But it\'s a challenge. It can only make you better and make you stronger in the end. I can just do my best, train as well as I can, and in the games that I get a chance I will show what I\'m worth.\"
Mignolet has only had a short break after spending much of the summer on international duty with Belgium but he is already prepared to put in the hard work in order to prove his worth.
\"I just look at myself, getting myself back fit after the break. I only had three weeks off when the season finished with Belgium,\" he added.
\"I was still in good shape when I arrived here and now the only thing I can do is train hard and do my very best in training and the games coming up.
\"I\'ll just do my best to play every week. I\'m not here to be sitting and resting. I\'m here to come and progress, and play. The only thing I can do is train hard, show the manager that I\'m ready for it and in the games when I get my chance I have to be there and be ready.\"
Mignolet played 90 Premier League games during his time at Sunderland and managed to keep 30 clean sheets in that time. He particularly impressed last season and will hope that he has opportunities in the first team at Liverpool where Reina has had little competition in previous years.