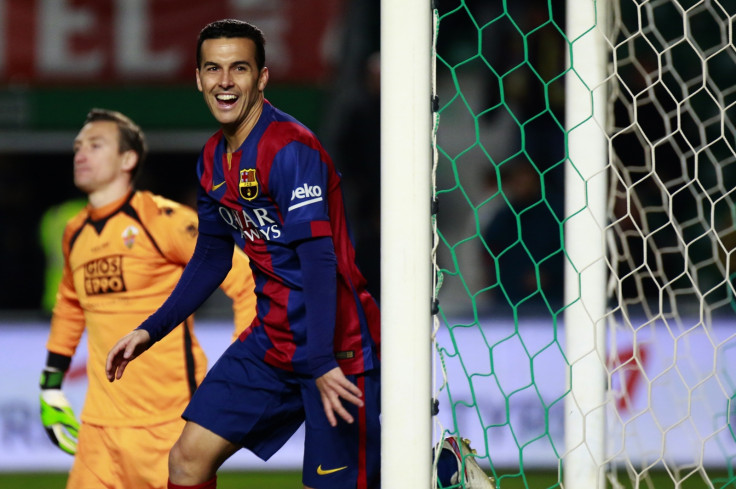 Liverpool have joined Manchester United in the race for Barcelona winger Pedro Rodriguez, according to the Mundo Deportivo.
The report states that Brendan Rodgers is still in the market to sign the player, having recouped a considerable amount of money from the transfer of Raheem Sterling to Manchester City.
Liverpool have been very active thus far in the market, making seven signings in the form of Christian Benteke from Aston Villa, Nathaniel Clyne from Southampton, Roberto Firmino from Hoffenheim, Adam Bogdan from Bolton, Joe Gomez from Charlton, James Milner from City and Danny Ings from Burnley.
United are reportedly in the driver's seat to sign the Barcelona winger, with the Daily Mail stating that they are on the verge of activating his £22m ($34m) release clause. He is likely to be a replacement for the departing Angel Di Maria, with the Guardian reporting that he is on his way to Paris Saint-Germain after the French Champions expressed an interest in the player.
Di Maria has been a massive disappointment at United since coming in for a record fee from Real Madrid but will be a major loss to their creativity going forward, given that he accumulated 10 assists last season, only second to Cesc Fabregas in the league.
Meanwhile, Liverpool, should they complete the deal will add a direct replacement for Sterling on the wings, who was among the Reds' best players last season. Pedro will add pace and creativity out wide for Rodgers' men and also put in crosses, which can be met by Benteke to add some variation to their play.
Pedro's teammate Sergio Busquets revealed that the player wants to play more and with Neymar, Luis Suarez and Lionel Messi a permanent feature in the squad, he is considering his options abroad.
"Yes, I have spoken to him but I won't tell you what he said. It was a private conversation," Busquets said, as quoted by the Guardian.
"I would want him to stay, I would love him to stay. He is a friend of mine and it will be his final decision. He wants to play more and get more minutes. That's what he wants.
"But we are in a team of great players and it's hard for him. Finally it will be his decision but I hope he stays," he added.