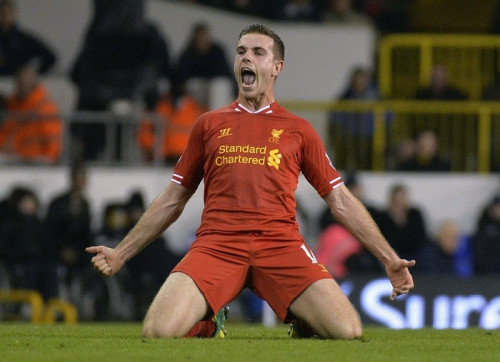 Liverpool midfielder Jordan Henderson will be rewarded with a new long term contract after his much improved form this season.
The former Sunderland player has enjoyed an excellent season as the club have sought to reclaim a spot in the Champions League and has started every Premier League club this season, the only outfield player to do so for the Reds.
According to The Sun, Henderson is now set to be rewarded for his vastly improved form and will be offered a new long term deal at the end of the season.
Henderson was one of a number of British signings made by former manager Kenny Dalglish in 2011, arriving from Sunderland for a fee of £20m. In addition to the likes of Charlie Adam, Stewart Downing and Andy Carroll, Henderson was told he could leave after an inauspicious first season on Merseyside with manager Brendan Rodgers unconvinced of what he had to offer as he sought to mould the club in his own image.
But the midfielder's imminent contract talks marks a remarkable turnaround after being on the periphery of the squad during the first half of last season.
Henderson's improvement has been widely lauded this season and could see him in contention for a spot in England's World Cup squad and the player himself is grateful for the recognition his performances have garnered.
"Obviously it is a compliment but it's what my aim is every time I play - and that is to improve," Henderson said last week.
"With the staff and the players around us, I can definitely become a better player here, so I've just got to keep working hard and hopefully carry on improving.
"It is important - it gives you more confidence if you know everybody else is confident when you go on the pitch."
Henderson has two years remaining on his current contract.