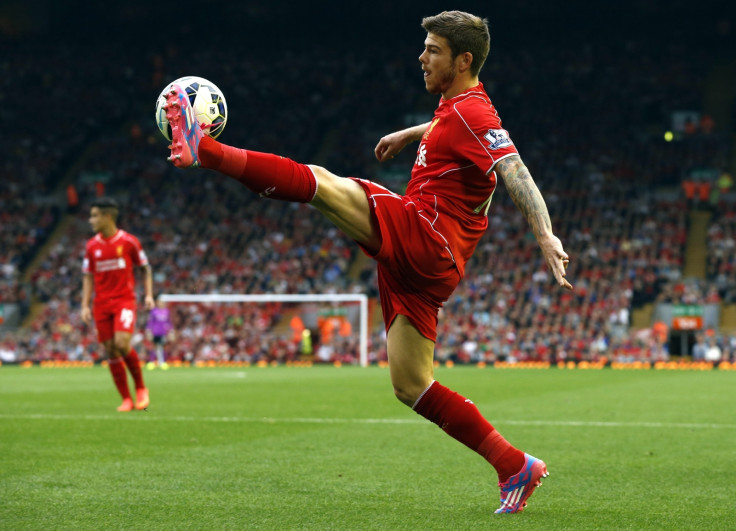 Liverpool defender Alberto Moreno believes manager Brendan Rodgers' 3-4-3 formation has been key in both his personal development and the team's recent improvements as it is a good fit for the squad's qualities.
Following the departure of Luis Suarez to Barcelona, Liverpool struggled at the start of the campaign despite Rodgers bolstereing the squad with Moreno, Mario Balotelli, Adam Lallana, Rickie Lambert, Lazar Markovic, Emre Can, Dejan Lovren, Javier Manquillo and Divock Origi (who remains on loan at Lille).
But the Reds have managed to overcome the situation and after an excellent start to 2015, they are now just four points off the top four spots in the Premier League, while they beat Tottenham Hotspur 3-2 with an impressive performance on 10 February.
Moreno, who swapped Sevilla for Liverpool in the summer of 2014, believes Rodgers' decision to change the team's formation has been crucial.
Even though he excelled in La Liga as a left-back before moving to Anfield, the Spaniard points out he was originally a winger, and his current position as a wing-back give him more freedom to make the most of his skills.
"I played as a winger when I was younger. I really like this formation as I can attack more, which is one of the things I like to do the most on the pitch," he said to Liverpool's official website.
"Of course, we also have defensive duties but this system gives me more freedom to attack. I like this formation as I think it suits the type of players we have very well - and things are unfolding well as a result. We'll continue to improve as a team if we keep doing things as we have."
While Moreno and Markovic are proving to be a threat on the flanks, the new system has also given the team more balance in midfield and defence.
"We are playing with three central defenders in addition to the two wingers, who help the team by defending and attacking. We're constantly looking to help the defenders with the assistance of our midfielders - Stevie [Gerrard], Lucas and Hendo [Jordan Henderson] mainly," he said.
"Everyone does their best to help both defensively and in the attack. I think it's very important that we play as a team and stay together - that's what's been helping us to get the points."