Liverpool Star Lucas Leiva Understands Rodgers' Decision To Sacrifice Him for Steven Gerrard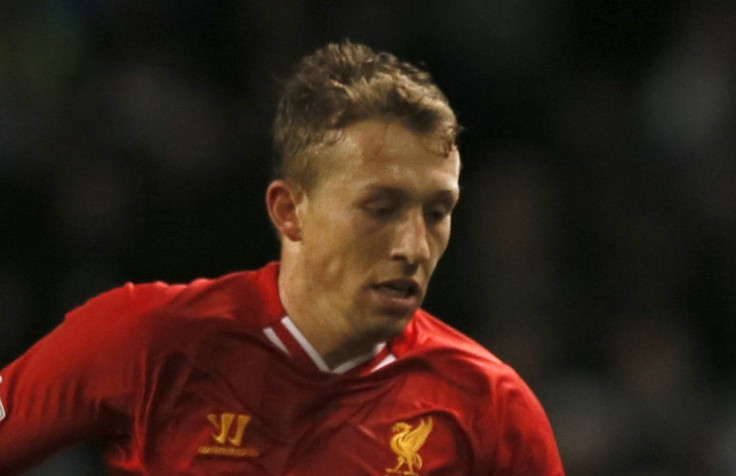 Lucas Leiva understands his marginal role at Liverpool this season, saying Steven Gerrard's excellence in the holding role makes it "difficult for Brendan Rodgers to change things".
The Brazilian international started the season as a regular for Rodgers but after suffering a knee injury against Aston Villa in January he lost his place in the starting eleven.
And once he returned to action he has struggled to recover his position in the squad as Gerrard has played superbly in a deep-lying role during Liverpool's march to top spot.
"The team is doing so well and it is difficult for the manager to change things. You understand that. I know that the only way is to train hard and prepare. Lots of players this season have had chances when they did not expect it," Leiva told Liverpool's official website.
"I know Stevie is playing in my position and doing very, very well. So that's why I'm working hard and maybe looking - not towards another position - but maybe another way I can help, and still play beside Stevie. Because I know him being in the team in that position, my chances will be limited."
But Leiva believes that he can adapt to a more offensive role, as he used to play as a box-to-box midfielder during his time in Brazil.
"I played there for Gremio. We used to play a lot of time in a diamond. We had a holding midfielder, a playmaker, then me - more box-to-box. The playmaker did not run forward so much but I had the energy and freedom to join the attack," he said.
"It's pretty much the same Brendan asks here if we play in a diamond. Yes, you have to look after the full-backs and, when the ball is on the other side of the pitch, help outside the holding midfielder. You also have to keep the ball but contribute to the attack."
Indeed, the Brazilian revealed that Rodgers told him and Gerrard about his plan to deploy the captain in a deeper position and Leiva in a more action-packed role, even before he suffered the injury.
"We sat down in January, where he explained that he wanted to use Stevie as a holding player and me on the side of the three midfielders or the diamond. I had to re-adjust," he said.
"It's something I feel comfortable with. Of course, as much as you play you feel even more comfortable. You know you can help more. Football is like that."
© Copyright IBTimes 2023. All rights reserved.