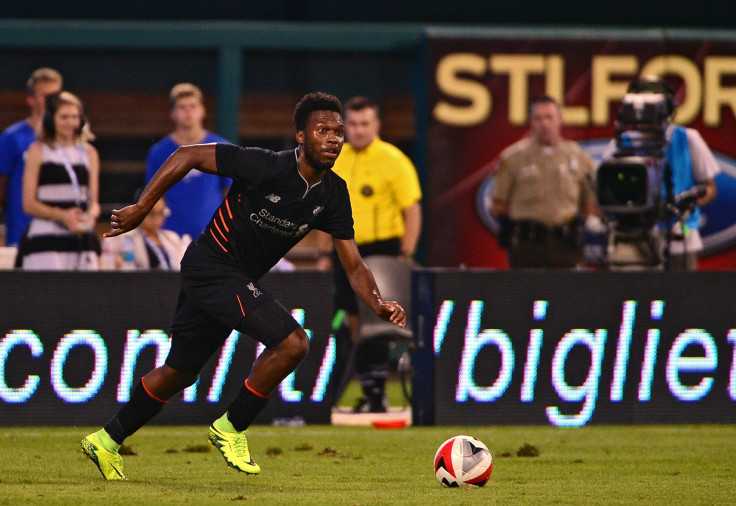 Liverpool striker Daniel Sturridge is a major doubt for the Premier League opener against Arsenal after manager Jurgen Klopp admitted he had "no idea" if the England international would be fit for the trip to The Emirates Stadium. Sturridge has missed the Reds' last two pre-season friendlies with a hip problem and there is yet no indication as to when he might return.
The England international has made just 26 top flight appearances in the last two campaigns and after being absent for the games against Barcelona at Wembley and Klopp's former club Mainz there are further concerns over his fragile fitness. His latest absence is described as only precautionary but such is his injury history Klopp is unwilling to commit to him being fit for the start of the season.
"No idea," the Liverpool boss told Sky Sports when asked about Sturridge's availability against Arsenal. "That's a two-word answer! I'm always ready. We played some games that were very good, others that were less good. Barcelona was really good and then we had Mainz, and that is what you need. You have to work and that is all. That is what we are doing.
"We will be ready for the first game next week, for sure. But if Arsenal was the best game of the season for us, there would be something wrong with the season.
"We still have to go on. This is only the first game. We cannot decide the whole season in one game. But we need to be as good as possible. And that is what we will be, 100 per cent. But I am not in the mood to say this is our final shape."
After thumping Barca, Liverpool were brought back down to earth by Mainz who completed a 4-0 win upon Klopp's return to the club. The Merseyside boss admits his side will learn plenty from the loss a week before facing Arsenal.
"At half-time I told them that's not how it should be, of course," he told Liverpool's official website. "It was hard for us today, 100 per cent. But that's a very important lesson for us. If it's hard – and there will be some hard moments this season – we have to trust our style of play, our philosophy and all of the things we usually do.
"[Such as] how we want to defend, final organisation and if you lose organisation in a moment, that can happen; find it back again and use it, not suffer under it. Of course, you could see the opponent today was much greedier than we were.
"We came here at 2am and it's not perfect, but they are only things to explain the circumstances. We created a very tough situation. Of course, we should not lose 4-0 but it happened and we can work with it."