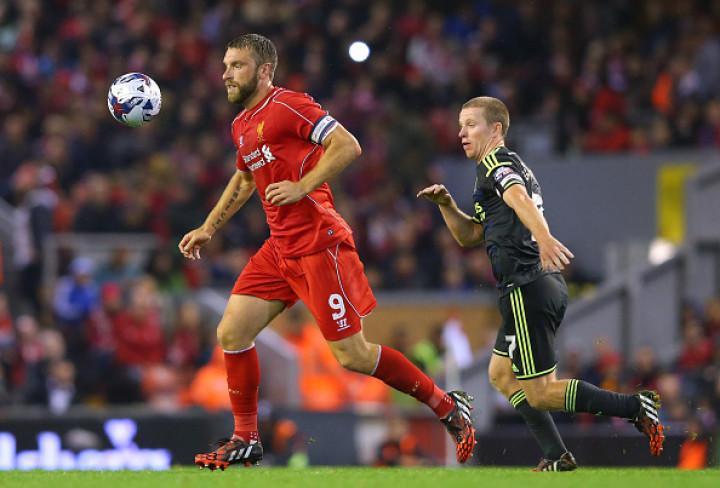 Liverpool striker Rickie Lambert admits he has to improve on his fitness after a disappointing performance against Middlesbrough at Anfield on Tuesday.
The England international made his first start for the Reds and Brendan Rodgers also handed him the armband as Steven Gerrard and his deputy Jordan Henderson were rested for the Capital One Cup tie.
Lambert was replaced by Mario Balotelli in the 74th minute. The clash ended in a 2-2 draw at the end of the extra time and Liverpool went on win 14-13 on penalties to make it to the next round of the competition.
"It's my sharpness and my fitness which I need to get on the training pitch and start improving it. I do work, I push myself to the limit, but maybe I am going to have to go to the fitness coach after this game and see if I can do more," Lambert explained.
"I didn't feel as sharp as I want to feel. It was things like my touches but that [sharpness] was the main thing I want to look at going back into training."
"I want to get my match fitness up because obviously everyone knows I'm not playing every game so I have to adapt myself now. I think I'm going to have to do more so my fitness is up to the same level as everybody else," he added.
The former Southampton striker was unable to shine for Liverpool, despite being named the captain for the midweek fixture. However, Lambert has expressed his joy after Rodgers handed him the responsibility to lead the Reds against the Championship side.
"The manager pulled me in and said: 'You're going to be skipper,' so it was a great honour to lead the team," the England striker said.
"It was a nice surprise but, forgetting about that, it was a strange game. I wasn't happy with my own performance so that overshadowed the honour of being captain a little bit," Lambert concluded.
Meanwhile, Liverpool will host Premier League side Swansea City in the Capital One Cup fourth round clash. Their league rivals Chelsea and holders Manchester City have also made it to the fourth round.