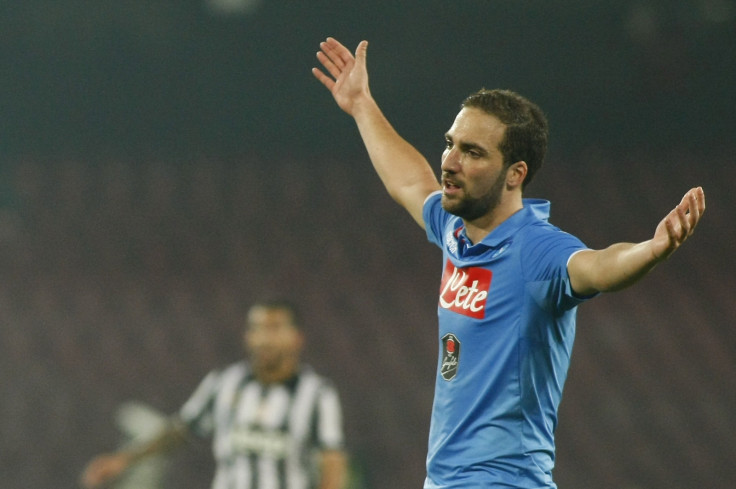 Gonzalo Higuain's agent has rubbished suggestions he has held talks with Liverpool, insisting he would never go behind Napoli's back to discuss a deal.
Higuain, 27, has remained persistently linked with a move to Merseyside following Luis Suarez's departure during the summer transfer window.
Liverpool's struggles in the absence of the injured Daniel Sturridge have been worsened by Rickie Lambert and Mario Balotelli's failure to deliver any real impact, and have heightened calls for more firepower to be brought in during the January window.
While reports have suggested Anfield is the most likely destination for Higuain should he leave the San Paolo, his agent and brother Nicolas has moved to quell talk of a departure.
"Do Liverpool want Higuain? I don't speak English, just Italian, French and Spanish," he told Italian radio station Crc.
"I haven't spoken to any club, firstly because they haven't called me and secondly because it would be disrespectful to Napoli, it wouldn't be fair.
"[Napoli president President Aurelio] De Laurentiis is a great person, a man of honour and I couldn't behave incorrectly. We are not thinking about leaving Napoli.
"I am confident that the team can make third place [to qualify for the Champions League] and then we will see about Gonzalo's future.
"I haven't spoken with any team, Gonzalo is calm, he has a contract with Napoli and he is not planning to leave because he is happy. We have to fight for third place."
Liverpool also remain linked with a move for Paris Saint-Germain forward Ezequiel Lavezzi but it would appear manager Brendan Rodgers is concentrating on a deal to bring summer signing Divock Origi back to the club earlier than planned.
Liverpool signed the Belgian international from Lille for £10m but as part of the deal allowed the forward to remain at the Ligue side on loan until this summer.
"There have been discussions with Lille about him," Rodgers told reporters on Thursday 15 January. "The agreement with Lille was for him to stay there, so we'll see how that works.
"But if not then we've got the players here to do well and we'll look to do that. He'll definitely be here in the summer."