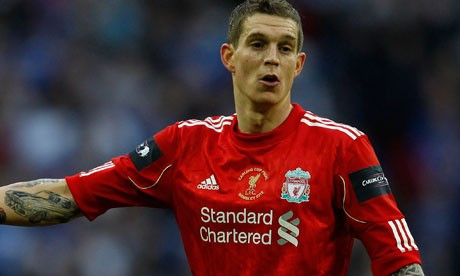 Liverpool's summer of rebuilding took a rather unwanted twist when Premier League champions Manchester City made a shock £13m bid for Danish centre back Daniel Agger. The Dane enjoys a reputation for being a solid and tough-tackling defender and has enjoyed good spells at Anfield with Slovakian international Martin Skrtel. He also had an excellent spell at the 2012 European Championships.
The Reds refused both the opening bid and a follow-up offer from the Etihad outfit but a recent Sky Sports report suggested manager Brendan Rodgers may be prepared to talk terms with his counterpart Roberto Mancini, should he offer £20m or more. An earlier IBTimes UK report quoted Rodgers as saying that while he did not want to lose his better players, everybody had a price. However, he has also warned City that Agger's fee would have to be a "ridiculous offer".
"Daniel is one of the leading centre-halves in Europe," Rodgers was quoted as saying, "There's been contact from City but it's nowhere near his value. You can only consider something like that if it is going to benefit you. Of course, you might lose a top player but if it benefits you going forward - and you can make two or three steps forward because of it - you may have to consider it. But we don't want to sell him so unless someone comes in with a ridiculous offer, there's no way I want to lose one of my best players."
Meanwhile, should City make good on their interest and Agger leaves Anfield, a Goal.com report suggests Liverpool could move for Atletico Madrid's Uruguayan international Diego Godin. The 26 year old central defender has reportedly been scouted by Liverpool representatives on several occasions in the past year. The former Villarreal player has made 56 appearances for his national side and is considered as one of his country's key players.
However, Rodgers may have his task cut out because Godin is reportedly unwilling to leave Spain and the Vicente Calderon. Amid reports that City and Chelsea were interested in his services, he was quoted in another Goal.com report as dismissing speculation and pledging his future to the club.
"I wish to stay," Godin stressed, "Adrian and Radamel Falcao are here too and like me they hope to continue here. The European Super Cup is the ultimate goal we have in the short term, because it's another title and offers prestige in Europe. We are privileged to be taking part. We will be ambitious but organised too. By doing that we will start earning points and hopefully achieve our main objective of Champions League qualification."