Liverpool boss Brendan Rodgers is reportedly looking to sign Barcelona youngster Cristian Tello to strengthen his attacking options up wide. However, Liverpool will have to compete with Arsenal to get the 21-year-old's signature.
Although Rodgers says that he is close to signing the young Spaniard, the Gunners have an advantage as Barcelona are reportedly interested in Arsenal's Cameroonian defensive midfielder Alex Song. The Catalans may be interested in an exchange offer with Arsenal rather than a cash offer with Liverpool. Also, Arsenal manager Arsene Wenger feels that Champions League football will attract Tello's attention rather than the Europa League.
Still, Tello, who scored two goals during a Champions League clash against German outfits Bayer Leverkusen, reportedly wants to continue at Nou Camp despite the interest from other clubs including Dutch club Ajax and Spanish outfits Valencia
However, regardless of what the winger wants, reports suggests that Tello's future at the Nou Camp is uncertain as he is still not a part of Barcelona manager Tito Vilanova's immediate plans. Tello's agent is reportedly going to meet up with Andoni Zubizarreta (Barcelona's director of football) to discuss his client's future at the Nou Camp.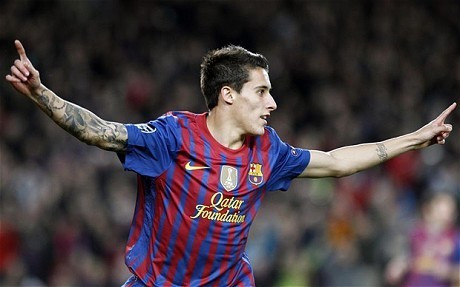 Arsenal and Liverpool after Real Madrid's Nuri Sahin
Meanwhile, Arsenal are also reportedly after Liverpool's other target Turkish midfielder Nuri Sahin. An earlier report in the Metro suggested that the Gunners had contacted Real Madrid to discuss a loan deal for the 23-year-old midfielder.
Liverpool, on the other hand, are by no means sitting quiet as reports suggests that Rodgers is trying to make use of his good relationship with Real Madrid boss Jose Mourinho (with whom he worked at Stamford Bridge) to land a deal for the Turk. Sahin is expected to break the suspense about his future in a couple of days.
Dempsey Expecting Liverpool bid
Elsewhere, Fulham midfielder Clint Dempsey is reportedly expecting Liverpool to make a move to get his signature.
Liverpool, who have already signed the likes of Fabio Borini and Joe Allen from Roma and Swansea respectively this summer, is reportedly keen on getting the 29-year-old defender, who scored a 23 goals last season.
An earlier report in IBTimes UK report suggested that Liverpool were considering offering their Scottish midfielder Charlie Adam in an exchange deal for the American striker.
Liverpool may be getting Dempsey as the American has refused a new deal at Craven Cottage and he was also not a part of Fulham's pre-season fixtures including their tour of Switzerland.