Liverpool managing director Ian Ayre has revealed that the club will not sell Luis Suarez in spite of the controversy ensuing his audacious bite on Branislav Ivanovic in their game against Chelsea. The clarification comes days after Brendan Rodgers had hinted that the player may be on his way out of the club in the summer.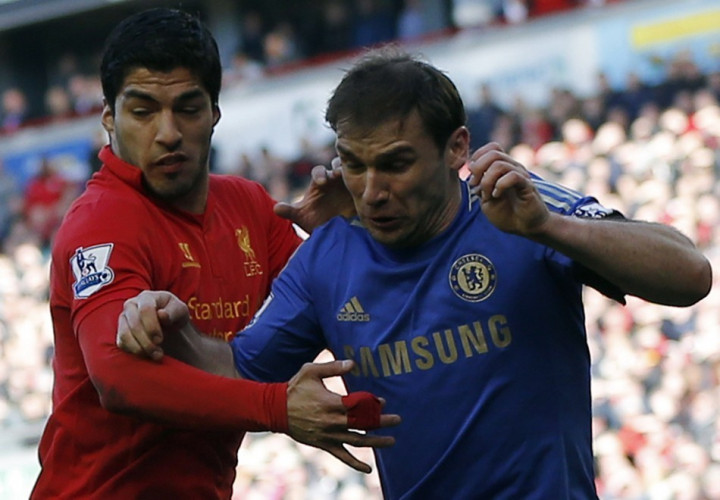 Ayre believes that Suarez needs to be trained on his discipline and any further incident is expected to bring an end to his career at Anfield. Suarez is set to receive a hefty ban from the FA, who have charged the player for violent conduct and is expected to miss the rest of the season. This is the second time Suarez has been convicted by the FA after his racial abuse of Manchester United defender Patrice Evra which earned him an eight game suspension.
"Not at all. It affects it in the sense we have to work with him on his discipline. Luis is a very popular player with his team-mates. As we keep saying, he signed a new four-year contract last summer and we'd all love to see him here throughout that. He's a fantastic player, top scorer and everything we'd want in a striker, so there's no change there. This is more about getting him back on the right track and it's largely down to Brendan now to work with him on that side," he said when asked if Suarez's recent antics will have any bearing on his future with Liverpool.
"The most important thing is we acted swiftly. Luis felt he let a lot of people down and we'll work with him - Brendan particularly - on this side of his character in his game," Ayre went on to add.
However, there is hardly any controversy regarding his abilities as a player, with the Uruguayan scoring 23 goals in the league this season, second in the goals tally behind Robin van Persie, who is currently on 24 goals after scoring a league-winning hattrick against Aston Villa on Monday. The player scored and assisted a goal each to secure a 2-2 draw against Chelsea in the weekend, but his performance was downplayed following his antics off the ball.