Brendan Rodgers has hinted Liverpool could part with Luis Suarez this summer, by claiming every player is replaceable and nobody in his ranks is bigger than the club.
The Reds manager was speaking regarding the infamous incident involving Suarez, who appeared to bite Chelsea defender Branislav Ivanovic on the arm, during Sunday's Premier League encounter between the two sides at Anfield.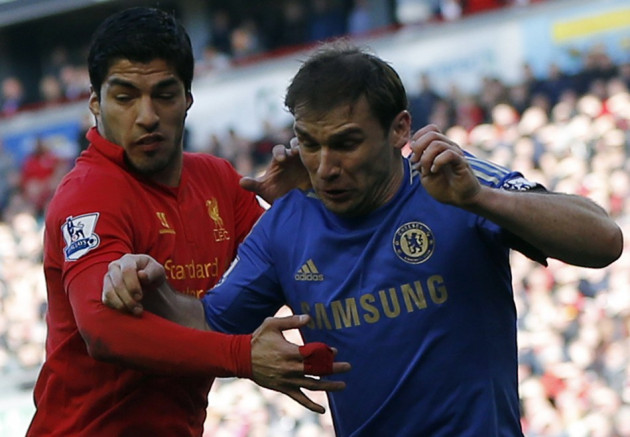 At the press conference after the game, Rodgers insisted he would not comment on the issue till he had reviewed it but did drop a massive hint that the club might show the door to the controversial Uruguayan at the end of the season.
"As much as I will always defend people if I think they are right, if I think they are wrong, I will tell them - as I have already this season with Luis. People have to accept it when they do wrong, if that's what the case is. They have to accept the consequences accordingly," the Northern Irishman said.
"Players are always replaceable. It doesn't matter how good they think they are. There are wonderful talents here, but we've shown over the years - this club and others - if you lose a player and think you can't replace him, the next one comes. The standards at this club have been met for many years and that's why it's the worldwide institution it is. The history of this club is of respect and how people are treated. Those standards will be maintained long after I've gone," the former Swansea City boss stressed.
Speaking later to the press, after the club reviewed the incident and took a stance on the situation, Rodgers commented that Suarez's behaviour was unacceptable.
"Having reviewed the video footage and spoken to Luis, his behaviour is unacceptable and I have made him aware of this," Rodgers said, adding, "This is a club with incredible values and ethics. There's certainly no-one bigger than this club, a player or manager. As football managers, staff and players, we're representing this club, off the field and in particular on the field."
This is not the first time that Suarez has bitten a rival on the pitch before. The former Ajax captain was given a seven-match suspension for biting PSV Eindhoven midfielder Otman Bakkal, during an Eredivisie game in 2010.
The Football Association has confirmed it is investigating the incident. Liverpool managing director Ian Ayre cancelled his planned trip to Australia to personally handle the situation.
"Luis is aware that he has let himself and everyone associated with the club down. We will deal with the matter internally and await any action from the Football Association," Ayre stated.