Liverpool have reportedly stepped up pursuit of Ajax youngster Christian Eriksen and the Mail believes the Anfield club could be a surprise favourite in the race to sign the Danish international. The 21-year-old attacking player has previously been linked with moves to Tottenham and Manchester United.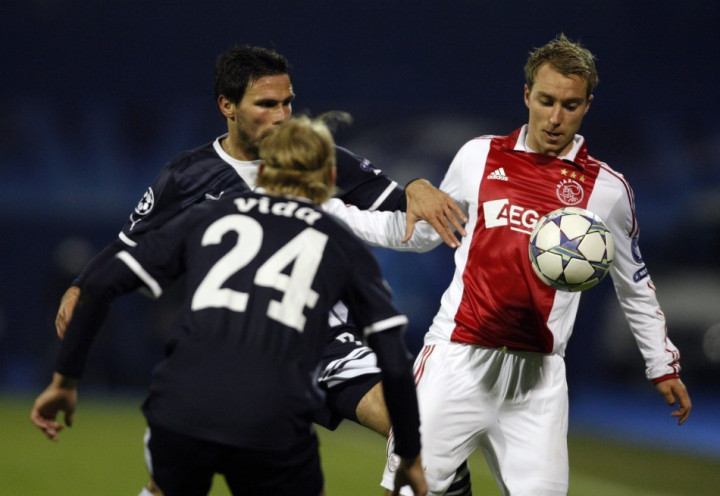 Eriksen's contract expires in the summer and the player has neither signed an extension nor confirmed that such talks are underway. The Dane's future has been the subject of interest for some time now and Ajax's technical director, former Dutch international Marc Overmars, has been quoted as admitting discussions have proven a failure, so far.
Liverpool boss Brendan Rodgers is believed to want three or four new players in the summer. One of the signings will almost certainly be a centre-back to replace the retiring Jamie Carragher and, most recently, the club have also been linked, by the Metro, to £12m-rated Shakhtar Donetsk forward Henrikh Mkhitaryan. Unfortunately, with only £20m in hand, reportedly, for transfers, Rodgers' options are limited.
Eriksen would therefore be an ideal signing. The forward is believed to be one of the brightest prospects to come out of the Ajax youth academy, which has groomed ex-internationals Dennis Bergkamp and Johan Cruyff, among others. The Dane has 20 starts, in all competitions, this term, with eight goals and five assists to his name.
However, any future move to Merseyside could depend on Liverpool qualifying for the Champions League next season. And that appears unlikely to happen. The Reds are struggling in the Premier League, with only 45 points from 30 games so far. They lie nine points behind Spurs, in fourth and in the final qualifying spot for top-tier European football.
Henderson on Top Four Finish
Meanwhile, midfielder Jordan Henderson has refused to give up on precisely that goal. The England youngster believes that if his team mates and he work hard enough and win every game left this season, they could sneak into the Champions League.
"I've enjoyed playing in Europe because I had never played in the Europa League before. I enjoyed the games and it is important that we get back there. Every game between now and the end of the season is massive for us... if we win every game, maybe the Champions League," he said.