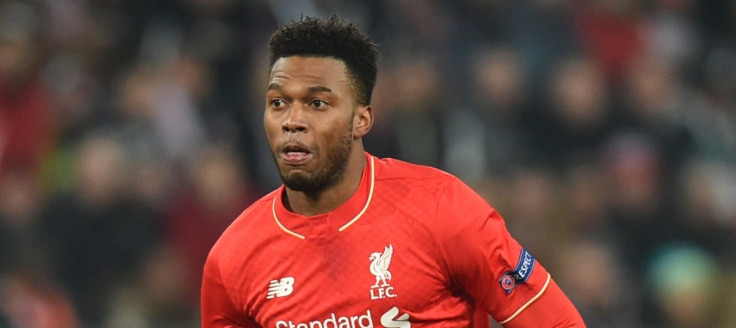 Liverpool striker Daniel Sturridge has dismissed rumours over a potential summer exit and revealed he is happy and looking forward to the future at Anfield. The 26-year-old has endured another injury-plagued campaign, with his return from hip surgery quickly thwarted by knee and hamstring problems that saw him limited him to just nine appearances in all competitions so far.
Sturridge finally returned to fitness after his latest two-month absence with a substitute cameo in the FA Cup fourth-round replay defeat at West Ham, prior to scoring his fifth goal of the season during a 6-0 Premier League rout of Aston Villa. He also started the Europa League last-32 first-leg draw at Augsburg, although the England international's future was called into question earlier in February after The Telegraph suggested that he would be prepared to leave if an appropriate deal could be agreed.
Such reports claimed that Sturridge had become disgruntled with the way that his injury problems have been depicted by the club after Klopp previously appeared to question his attitude and claimed that he may need to learn the difference between "regular" and "serious" pain. Transfer gossip in January suggested that West Ham United were willing to submit an offer worth £18m ($25m) to sign the player, although he insists he is content on Merseyside.
"It's important to worry about the present," he was quoted as saying by the Liverpool Echo at a pre-match press conference held ahead of the return fixture against Augsburg on 25 February. "It's been a difficult time being injured but it's part of football. I am looking forward to the future at Liverpool. I am happy here. I've always had my family, friends and Liverpool with me. I am happy to be playing and that's all that matters.
"I don't listen to social media. To say a player doesn't want to play is the biggest disrespect you can say to any footballer. Nobody knows how much it means to me to play football. I will continue to do my best and focus on playing for Liverpool. In life there are times when you have great periods, times when you have difficult periods. I have never worried about it. I am blessed by God and I have no stresses. I have come a long way from Birmingham. I am good.
"I am very ambitious. I am determined to help Liverpool have success.Totally focused. I want to be on the pitch every game. When I am not playing I am devastated. I'm not just at home or out with my friends chilling. All I want to do is play football."
Klopp echoed those sentiments and seemed content to put an end to speculation over Sturridge's future. He said: [Daniel] is a really good footballer and now he is able to play which is what we want to see all the time. A few things are clearer now – his future. You can stop thinking about this."