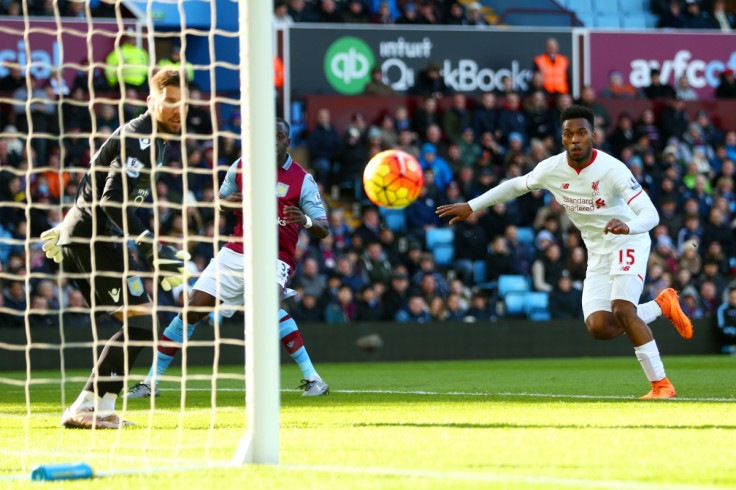 Liverpool manager Jurgen Klopp admits Daniel Sturridge's fitness is key to the club's fortunes. The 26-year-old striker scored during the Reds' 6-0 demolition of Premier League's bottom side Aston Villa on 14 February, having recently returned to first-team action.
Sturridge has barely featured since Klopp became Liverpool manager in October 2015 and the German thinks the striker's fitness will have a major impact on the club's results. He said, too, that another of Liverpool's recently injured stars, Philippe Coutinho, is an important player for the team.
"It makes a difference having both Philippe Coutinho and Daniel Sturridge are on the pitch," Klopp said to Sky Sports following the Reds' emphatic win at Villa Park. "You can only play them when they are fit and available. We want the highest quality on the pitch as much as possible, you saw that today."
Sturridge's fitness became the source of much speculation during his times on the sidelines but Klopp is glad he gave the England international so much time to ensure he returned to full health.
"We are always clear. When you are injured and out, you need time and when you are back, you are back. It is a situation where you want to play football, it is good Sturridge can do this now," the Liverpool boss shared.
"We have two Europa League games coming up, then the League Cup final. They are big games and we will see who we can bring in. We broke the opponent after the third or fourth goal. After that, they cannot come back into the game."
Despite his long injury layoff, Klopp was unsurprised by Sturridge's impressive showing on his return. "We need the goals of Daniel and he needs the goals. For me it's not a surprise he can score goals. He is a real striker. It's really good to see. When he hides himself on the pitch it's really difficult to defend [against] if he is always somewhere," he said of the Liverpool striker.
"He changed a lot of things but we can only speak about this when he is available. When he's not we cannot say 'but with Daniel it would have been different'. It was brilliant and you saw he was not too happy when we took him off."