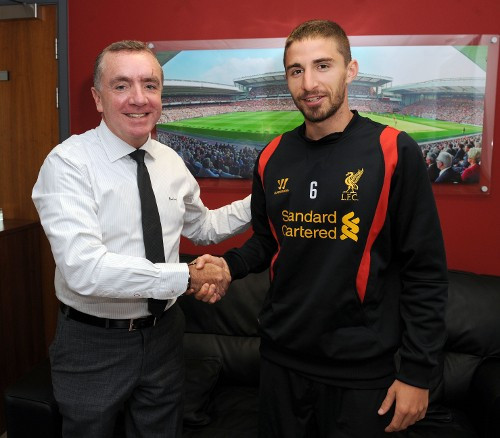 Liverpool's newest recruit, Italian striker Fabio Borini, will wear the No 29 jersey for the Reds next season. The forward completed his move from Roma to the Premier League on Friday, after the Anfield club confirmed agreeing personal terms and the player passed a medical.
The 21 year old, who scored 10 goals in 26 appearances for the Giallorossi last season, has signed a long-term deal for an undisclosed fee to become new Reds boss Brendan Rodgers' first signing since he took charge at the Merseyside club last month. The club revealed Borini specifically asked for the No 29 shirt as it was his lucky number. The Italian, who has never worn that jersey number before as it has never been available, said was excited about his Liverpool future.
"It's a top club that has won a lot of trophies in the past - and will do so in the future we hope as well. I've got the trust of the manager and the club, which for me is very nice and I'm proud to be here. It will be amazing. I know the fans are very warm and they're here for football. I hope to achieve the maximum I can, by scoring goals, getting into the Champions League and all of the things the club also wants - and all the other players," ESPN quoted Borini as saying.
The Reds were linked strongly to the forward in recent weeks and the transfer was widely expected. Borini has worked with Rodgers previously - during his time at Chelsea and also during a loan spell with Swansea City in early 2011. The youngster was particularly impressive in his latter spell, scoring six times in nine games. Borini admitted an opportunity to reunite with Rodgers played an important part in his decision to move to Liverpool.
"He was very important. I wouldn't say it was the key, but most of it came from him. Even during last season, I spoke with him a lot. I'd text him and ask if he was okay and congratulated him on the results he got with Swansea. I used to play 4-3-3 with him and he is very good to play football for. It is great to play football for him because you can have fun and you can get results. I could see at Swansea the people loved him because the football was attractive," the Daily Mail quoted the Italy international as explaining.
Meanwhile, Rodgers expressed his admiration for Borini and stated the Anfield faithful would love the Italian as he was a versatile player and could be a crucial part of the club's future.
"Fabio fits the model of what we're trying to do in building not only for now, but also for the future. He's a big talent, 21 years of age, he scores goals, and his passion, focus and concentration is a very important part of his game - and a big part of what you want from a player. I think the supporters will love him. He's a multi-functional player who can play in a number of positions and someone I believe has got great growth," Sky Sports quoted the 39 year old as saying.