Liverpool Transfer Rumour: Sigurdsson Hints at Anfield Move
The Iceland midfielder might follow Brendan Rodgers to Liverpool FC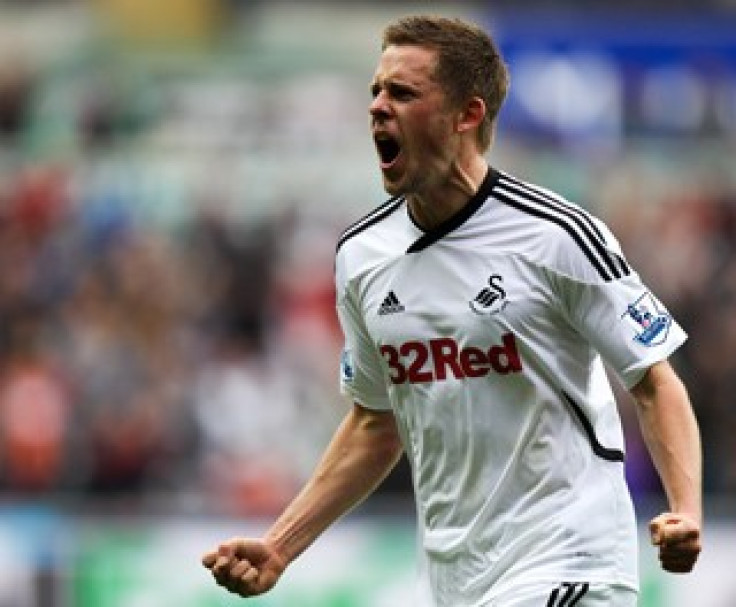 Gylfi Sigurdsson
swanseacity.net
Iceland midfielder Gylfi Sigurdsson has stated he does not expect to complete a transfer to Swansea City after manager Brendan Rodgers left the club to move to Liverpool. Instead, the player hinted he may follow Rodgers to Anfield.
Sigurdsson was on loan at the Welsh club for the second half of last season and impressed with seven goals and three assists from 18 appearances in his debut Premier League campaign. Swansea announced they had agreed terms with the 22 year old and his parent club - German side Hoffenheim - for the transfer but the player has now been quoted as saying that Rodgers' switch to Anfield has changed his situation.
"It's just unclear at this moment where I will play. I'd like to play on with Swansea since I was really happy there but after Brendan Rodgers left the club for Liverpool, that changed the situation," ESPN quoted the midfielder as saying. Sigurdsson went on to say it was unlikely he would join Swansea now and that Liverpool were a club he would be interested in playing for.
"I expect not to stay at Swansea because of the uncertainty going on there as it is not clear who is boss. I have said that my desire to continue playing in the Premier League and Liverpool is completely considered. Liverpool is a big club that has a glorious history. English Premier League is the platform that I want to be and hopefully is that I continue to play in that division," he stressed.
Meanwhile, new Reds' boss Rodgers claims he wants to add his name to the illustrious history of the club, like predecessor Kenny Dalglish, and also added his door was always open for the Scot.
"I have the ultimate respect for Kenny Dalglish. My door is always open for Kenny Dalglish. This is his home. As chairman Tom Werner said, he is the heart and soul of this club. His love for this club is unrivalled. He is the best player in the history of this club. I am not here to win any race or competition. This guy is a legend in the game and here at Liverpool Football Club," the club's Web site quoted the 39 year old as saying.
"But what I know is history judges you as a manager and hopefully in time people will look back at what I have achieved here and I can walk beside these people. But there is no way I can try and overtake someone like Kenny Dalglish. All I can do is be myself," Rodgers added.
© Copyright IBTimes 2023. All rights reserved.