Liverpool have unveiled Brendan Rodgers as their new manager.
Rodgers succeeds Kenny Dalglish as manager after leaving Swansea City having ensured Premier League survival for the Swans last season.
The 39-year-old was among a number of candidates considered by Liverpool, and the Northern Irishman says it was impossible to turn down the advances of such a decorated club.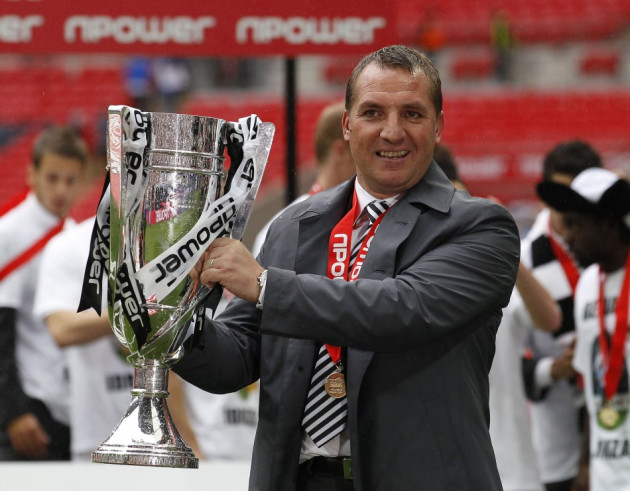 "I'm blessed to be given this opportunity," he told Liverpoolfc.tv. " I want to thank John Henry, Tom Werner and FSG for the opportunity to manage such a great club. I'm really excited and I can't wait to get started on this incredible project going forward.
"I promise to dedicate my life to fight for this club and defend the great principles of Liverpool Football Club on and off the field.
"Once I found out I was the number one target, it was an easy decision," he added. "Even though I'm young in age, I have been coaching and working in football for 20 years.
"At Chelsea I had the experience of working with big players. Kenny Dalglish was the manager here at 34 and resigned at 39. He won three league titles and two FA Cups.
"Overall it is a long-term situation. That was important to me for a project that is over a number of years. For me it is about the principles of the club, which is to play attractive football. The realism is that we might not be ready for the title now. But the process begins now."
Owner John Henry is delighted to recruit The Reds' No.1 target.
"Fenway Sports Group is committed to building for the long-term," he said. "Brendan Rodgers' appointment today as manager of Liverpool Football Club is one of the most important steps we will take in building the kind of club on and off the pitch supporters can be excited about.
"Brendan's comprehensive football philosophy is perfectly aligned with those at the club and those soon to join the club. He was the first choice unanimously among them and he had no hesitation at all in embracing exactly what we want to try to build at Liverpool.
"We do not expect miracles overnight nor should anyone else. But we firmly believe that the direction the club is heading in will lead to Premier League championships. We will embrace the unconventional, build the right way and together set a bold, exciting course for this historic club."
After spells coaching and developing his footballing philosophy with Reading and Chelsea's youth sides, Rodgers was handed his first managerial role with Watford in 2009, before returning to the Madejski Stadium the following summer.
A difficult start to the 2010/11 campaign saw him sacked as manager, before another summer appointment, this time at Swansea, saw him achieve promotion to the Premier League via the playoffs in his first season, defeating former club Reading at Wembley.
In his first season managing in English football's top flight, Rodgers has flourished, with his brand of passing football helping Swansea stave off relegation, eventually finishing 12th as they clocked up home wins over champions Manchester City, Arsenal and Liverpool.
Chairman Tom Werner believes Rodgers' style of football means exciting times are ahead at Anfield.
"The style of football Brendan is associated with is exactly what we want to see at Anfield," he said.
"Aggressive, attacking play; Swansea were a revelation last season with their brand of entertaining football.
"But it's not just what he has achieved in the last two years that has impressed us; he has dedicated his career to coaching, has studied the game all over Europe and he is the perfect person to take this club forward."
Rodgers will not be accompanied by a new director of football at Liverpool, with a new backroom structure being devised to compliment the manager.
"If it was a sporting director, that was something I made clear I couldn't work with," Rodgers admitted. "What you need is an outstanding team. We will form a technical board that will have four or five people that will decide the way forward."