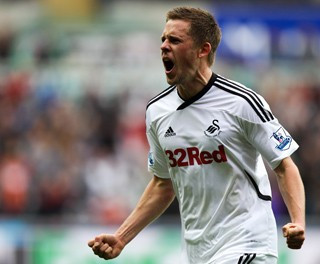 Hoffenheim midfielder Gylfi Sigurdsson's father has stated the player could still make a move to Liverpool.
There were reports on Friday the 22 year old had agreed terms and passed a medical at Tottenham Hotspur. However, Sigurdur Adalsteinsson has played down the speculation and stated the Iceland international has yet to rule out a transfer to Anfield.
"Gylfi wants to play at the highest level possible, but the opportunity has to be right. He hasn't made up his mind yet. There are plenty of clubs interested in him. There are some in Germany, but Gylfi wants to play in England. The main aim for Gylfi is to be in as good a team as he can be and play for the best club possible. Liverpool and Tottenham are both in Europe next season so that is not the question," the Daily Mirror quoted Adalsteinsson as saying.
"I have seen the stories that he is demanding a certain amount of money per week and they are rubbish. He just wants a normal salary and to be on the same as other players at the club. The bottom line is he just wants to play and the main thing football-wise is to find the right team which will suit him the most. It always helps when you know the coach like Brendan Rodgers. He is a very good trainer. But does that mean Liverpool? May be, may be not. He is thinking what is best to do and will have a decision by Sunday," he pointed out.
Sigurdsson impressed at Swansea City on loan last season, scoring seven goals in 18 league appearances. He has been linked with a host of Premier League clubs throughout the summer and was finally set to join the Swans permanently, only for manager Rodgers to leave the club to take charge at Liverpool. Rodgers has been a huge admirer of Sigurdsson and said he would try to bring the player to Liverpool. That expectation was boosted by the player himself hinting he might follow his ex-boss to Anfield.
Meanwhile, Liverpool are reportedly interested in signing Bolton Wanderers midfielder Mark Davies, if a move for Sigurdsson fails. Rodgers, who previously considered signing Davies for Swansea, will consider a £6mn bid for the 24 year old if top target Sigurdsson moves to Spurs.