Anderlecht managing director Herman van Holsbeeck has revealed the Belgian club is ready to let midfielder Lucas Biglia leave in the summer, for a fee of £4.7m. The Argentina international, who is a long-time target for Arsenal, was linked with a January move to several top European outfits. But the transfer did not materialise due to the Belgian champions' €8m (£7m) price tag.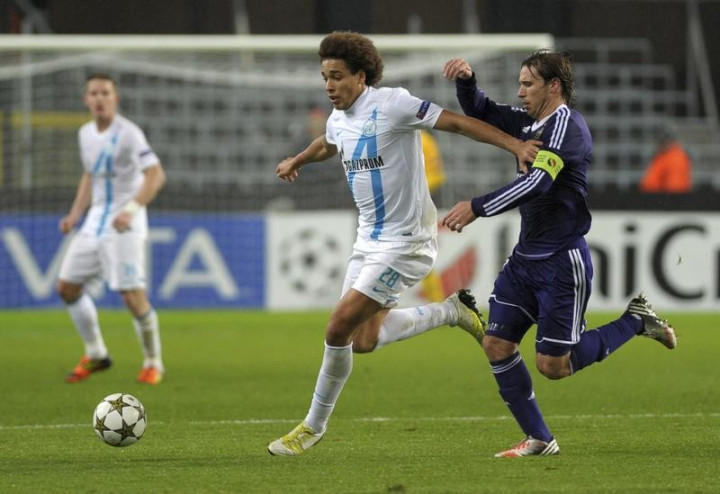 However, Biglia has fallen out of favour with the Brussels outfit and picked up a suspension after going AWOL last month. Anderlecht are now willing to accept a cut-price deal for the 27-year-old at the end of this season.
"If we get 5.5million euros (£4.7m) for Biglia during the next transfer window, we will be happy," The Sun quoted van Holsbeeck.
The report claims Liverpool boss Brendan Rodgers has been closely monitoring the Anderlecht star and might consider an approach in the summer. Meanwhile, Southampton, Real Madrid, Napoli and Fiorentina are also understood to be interested in the midfielder.
Sturridge: I'll Help Suarez Win Golden Boot
Meanwhile, Liverpool's Daniel Sturridge has stated he will help fellow forward Luis Suarez pick up this season's Golden Boot, by seeing off competition from Manchester United striker Robin van Persie.
The Dutchman, who moved to United from Arsenal last summer, is enjoying a terrific first season at Old Trafford, with 19 Premier League goals to his name, while Suarez, who scored a brilliant solo goal against Swansea City on Monday night, is just one strike behind.
"I don't see why not. There are 11 games left for us so I'm sure he can. I'll try and help him get there and give him opportunities," Sturridge told the club's Web site.
"It's always good to get individual glories as a player because they're the things you can look back on at the end of your career and tell your grandchildren you were top scorer for that season. I'm sure he'll be gunning for that and I'll try to help him get there," the England international added.