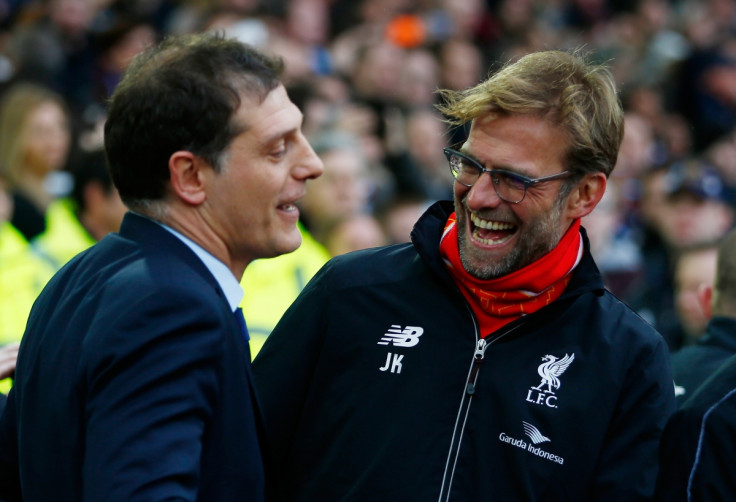 West Ham United manager Slaven Bilic is expecting his opposite number Jurgen Klopp to make significant changes for the FA Cup clash at Anfield on 30 January, with the fourth-round tie coming just four days after Liverpool were forced to endure 120 minutes plus a nervy penalty shootout before edging past Stoke City in the semi-finals of the Capital One Cup.
Such an experience is likely to have proved emotionally and physically draining, particularly when you consider that was Liverpool's eighth game of 2016 already and their 10th since Boxing Day 2015. Klopp made only two alterations to the side that played out a nine-goal thriller against Norwich at Carrow Road, yet Bilic is not anticipating the same starting XI that booked the club's place at Wembley for the first time in four years.
"They have Leicester City [on 2 February]. They have already played a few games, they are expecting a lot of games and Europe so he'll probably make some changes. I'm not expecting many of the guys who played 120 minutes on Tuesday to play on Saturday.
"And we're going to make some changes, but we are prepared to face their best side. Still they have a big squad. Still they have some players who are back like [Dejan] Lovren, and [Nathaniel] Clyne will probably be back. They have [Christian] Benteke, they have Joe Allen. [Jordon] Ibe. So I don't think it's going to be the team that played Exeter City. It's going to be a strong side, definitely."
When asked if his side's greater fitness and freshness could work to their advantage, he replied: "Yeah, but then that game was on Tuesday. It wasn't like Wednesday or Thursday night and then you have Saturday, like it was around Boxing Day. So it matters, but when you get yourself in the rhythm of playing then there's no better way to maintain fitness.
"Because if it was the other way around, then the big clubs like Barcelona or Real Madrid or the ones that are playing in the Champions League and all the cups would never be fit. Once you are in a rhythm, it's very important not to go over it. If you are in overdrive a lot, then you have a problem."
Liverpool's defensive record has been less than stellar of late, as evidenced by that error-ridden 5-4 win over Norwich and a 3-3 draw with Arsenal. West Ham, meanwhile, started very quickly in their last outing against Manchester City with a goal in the very first minute from Enner Valencia and although they ended up drawing that match, Bilic believes his players have what it takes to secure a third successive win over Saturday's opponents.
"Look, if I didn't believe that we can go through then we would put kids in again," he said. "We have a big game on Tuesday against Aston Villa, but I really believe that we have a chance to knock them out.
"Liverpool could be on fire after that result on Tuesday, they play at home and they have some great players of course but, on the other hand, we want it. We are hungry, we have a good team, we are in good form and we are quite consistent throughout the whole season. We are very, very optimistic."
One topic that Bilic would not be drawn on is the current malaise of Benteke. Liverpool's expensive summer recruit has scored only seven times since a £32.5m ($46.6m) switch from Aston Villa and has typically been deployed as a substitute under Klopp.
"That's a question for their manager, to be fair," the Croatian responded when asked if he was surprised that Benteke had not been starting every week. "It's not a question for me. I never like to comment on the selection of the other managers because I don't see the big picture. I see only games, I don't see training, atmosphere or the players relationships between themselves and all that."