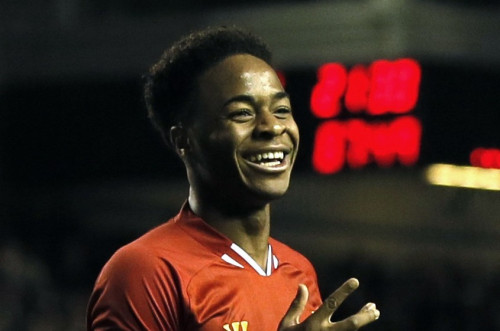 Liverpool captain Steven Gerrard says Raheem Sterling is equipped to replace injury-stricken Arsenal winger Theo Walcott for England at the 2014 World Cup finals.
Walcott has been ruled out for the rest of the season and the summer finals in Brazil after damaging his anterior cruciate knee ligaments in the FA Cup third-round win over Tottenham Hotspur.
The 24 year old's absence leaves a place open in Roy Hodgson's squad alongside James Milner and Andros Townsend, both are of whom are expected to feature having played a significant part in England's successful qualifying campaign.
Among the players hoping to capitalise on the injury to Walcott - who played in four of England's World Cup qualifiers and netted five goals in 14 league appearances for Arsenal - is Sterling, who has three goals and three assists in his last nine Liverpool appearances.
Sterling, who made his England debut in November 2012 against Sweden, won a penalty which was subsequently converted by Gerrard as Liverpool claimed a valuable win over Stoke City on Sunday and the skipper has backed the 19-year old to fill the void left by Walcott.
Gerrard said: "I said to Raheem after the game: 'You keep your performance at that level and you are going to make it very difficult for Roy Hodgson not to take you.'
"Hopefully he can build on the confidence from his recent performances and finish the season really strongly.
"He's in top form at a fantastic time. I'm obviously very disappointed for Theo with his injury but I'm sure Roy Hodgson is looking out for who is going to replace him and Raheem's performances of late have been sensational.
"There's many candidates - Aaron Lennon is playing well, Andros Townsend, Alex Oxlade-Chamberlain is back. But if you are looking at like for like, pace and threat down the wing, someone who can make, score and create, then Raheem has got a fantastic chance."
Southampton's Adam Lallana, Manchester United's Wilfried Zaha and Blackpool wide man Tom Ince are also in contention for a spot in Hodgson's 23-man squad.
But Gerrard sees Sterling as the leading contender, particularly as the youngster can perform a dual role for England
"He's got all the tools to do it," the Liverpool captain added. "It's up to him now. If you are a full-back, you don't want to play against pace and especially when it's coming at you all the time.
"Raheem keeps going and going, even if he makes a mistake. He's a fit lad who is relentless and he's a team player too.
"Everyone knows Roy Hodgson likes a wide player who can defend as well. He's got everything going for him. Now it's up to him to keep putting in that level of performance.
"You've got to understand his age. He's learning the game. He's got a fantastic manager to help him through that. He's only recently turned 19 and you are going to suffer a dip in form. Who doesn't have a dip at 18 years of age?
"But the mark of a good player and how good any player is going to be is how they come back from that. Can he react? To come back the way he has, he's been one of our most consistent players in the last couple of months. He's been brilliant."