Liverpool winger Raheem Sterling 'going nowhere in the summer' says Brendan Rodgers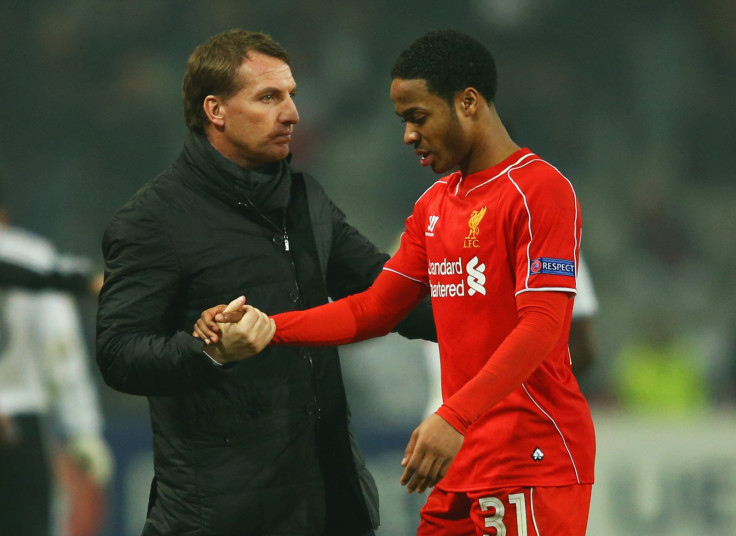 Raheem Sterling will not be leaving Liverpool this summer despite stalling over discussions regarding a new contract, according to manager Brendan Rodgers.
Sterling has rejected an offer of £100,000-per-week and gave an interview with BBC Sport stating he wanted to play with world class players.
Arsenal have been heavily linked with a move for Sterling but Rodgers says the winger will not be departing Liverpool this summer regardless of whether the player agrees a new deal or not.
"The concentration a few weeks back was to purely focus on his football, and help him continue with his development at the place he's made great strides over last couple of years," Rodgers said.
"The last time we sat down with plays and representatives that was the intention.
"Raheem has come out and made his feelings clear on that, and hopefully continue to focus on his football until the end of the season.
"What he said absolutely underpins everything we're trying to achieve here. Raheem says it's his ambition is to win trophies, and that's perfectly aligned with what we're trying to do.
"This is Liverpool one of the great clubs of football world. It is an honour for him to play at a club like Liverpool and he understands that.
"What he's saying is that he's got two and a half years left, he's quite relaxed as I am, he just wants to concentrate on football.
"He has been involved with the first team for two and half years and player he is today is because of environment and what we've created. He's got a lot of improvement to do and this is the best place for him to do it.
"He's not going anywhere in the summer. The focus on trying to make him the best player we can.
"Liverpool is one of the superpowers of football and the owners have made it clear and we've seen it before that money doesn't come into it. If the club doesn't want to sell it won't sell. That's that case with any player, Raheem or anybody else.
"It's about continuing to nurture a young player so he can be consistently playing at the top if his game.
"For Raheem it's purely about the football and he's made it clear that he's happy here. Trying to put off all the talk. He's a boy who loves his football. He understands and respects the opportunity that he's had.
"Still has two and a bit years left of his deal so it's not something we've overly concerned about. Hopefully we'll get it sorted out.
"There was no permission [to give the interview] by the club, it was something that surprised us all. He's a young player who has to learn and sometimes they makes mistakes. Our relationship is strong. He will learn as time goes on. We all make mistakes, especially when you're young."
While Sterling's future is overshadowing Liverpool's build-up to the weekend visit to Arsenal, the club have been boosted by the news that Daniel Sturridge is in contention for the top four clash.
Sturridge withdrew from the England squad due to injury and reports had suggested Liverpool would be without him for a further month of the season, but Rodgers has confirmed he took a full part in training.
Liverpool's 13-match unbeaten run was ended by Manchester United before the international break and Rodgers is keen to make amends and keep the club's Champions League hopes alive.
"Our possession wasn't good enough in the last game," he explained. "We were never in position to receive the ball and to press the ball. We need to be technically better.
"We will go there tactically very clear. We need to get something from the game. We are all disappointed. We felt we didn't do ourselves justice.
"We gave the ball away too cheaply. We didn't get into good positions in the game. We showed good character to keep the game going right into the very end."
© Copyright IBTimes 2023. All rights reserved.