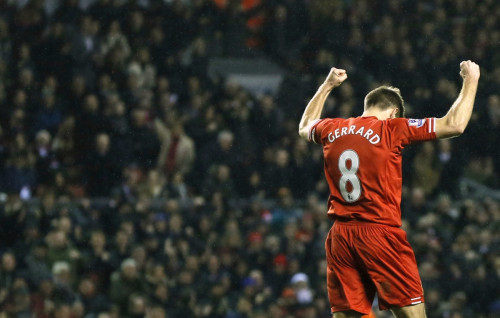 Fate is defined as the supposed force or power that predetermines events. Last night's fixture at Fulham was anything but predictable, but a force which has been present in our midfield for over a decade proved once again his colossal importance to Liverpool Football Club.
One moment epitomised Steven Gerrard, the footballer and the man. While some players celebrated Philippe Coutinho's 72nd minute equaliser the captain arrived on the scene, not to join in and revel in the celebrations but to encourage his teammates that, with over 20 minutes remaining, they should all be hastily heading back to the halfway line as a victory was still very much within reach.
The Premier League title remains the one missing domestic medal in Gerrard's illustrious career and he, like many of us, can sense an opportunity begging to be grasped.
Having been behind on two occasions this was precisely the type of fixture that Liverpool of recent seasons would most certainly have lost. A repeat of the recently dropped points against Aston Villa and West Brom would have surely meant that the golden ticket of Champions League qualification was the prize Anfield would have to set its sights upon.
Winning against Fulham in the dying minutes showed that this squad is made of stronger substance than in previous years and has allowed each and every Kopite to dream that magnificent dream.
The unusual situation from Liverpool's point of view is the lack of European fixtures, which in turn focuses minds solely on domestic games. The three teams above each have huge forthcoming Champions League ties and Spurs, directly behind, have the Thursday night distraction of the Europa League.
On Tuesday morning it looked as though last night's game would be delayed due to a transport strike. This would have broken Liverpool's momentum and perhaps left them playing catch up. As it transpired the Fulham game went ahead with horrendous weather conditions postponing games for Everton and Manchester City.
City now have a busy few weeks, rearranging that league match, playing in the Capitol One Cup final against the same opponents and taking on Lionel Messi and the mighty Barcelona in the Champions League.
Obviously City have the squad to cope, but it will be stretched and last night's postponement, although completely understandable, would not have been welcomed. Arsenal too have fixtures that would test the resolve of any top team, none harder than facing the European champions Bayern Munich.
At kick off against Arsenal on Saturday the Reds sat eight points behind the Gunners, knowing that defeat would leave them 11 points behind and surely then any mention of title contenders would dissipate. The victory left us five points behind them and after last night's round of fixtures the gap is now three, proving that in a matter of days football can change dramatically.
Pundits have pointed out that, as good as Liverpool are going forward, their frailty is at the back. However, when you dig below the surface you see that the last few results have been achieved with what are essentially back-up players.
If provided with a fully fit squad there's little denying that Brendan Rodgers would set up with a back four including Glen Johnson, Jose Enrique and vice-captain Daniel Agger. The Dane would be partnered in the centre by either Martin Skrtel or Mamadou Sakho. The club confirmed last week that the five remaining players on the Anfield injury list are all due back imminently, and that provides the manager with the sort of selection headache which he will not mind.
At this juncture in the season the League table has often made somewhat depressing reading in recent years. However Liverpool sit four points behind the leaders with a squad containing pace, firepower and a steely determination to succeed. Every Liverpool fan, now more than ever, will continue to show the faith.
This article was kindly provided by LFC Online, which offers news, reports, features and opinion on all aspects of Liverpool FC.
You can visit the LFC Online website by clicking here or visit the twitter page by clicking on this link.