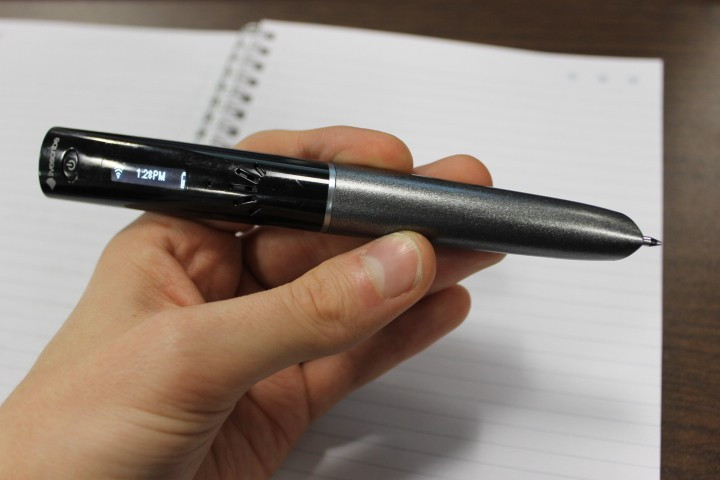 Key Features:
Infrared sensor and microphone to record notes and audio together
Wi-Fi to sync notes with Evernote
2GB, 4GB or 8GB storage options
Price as reviewed (4GB model): £179.99
Introduction
We have always liked the idea of Livescribe pens, with their ability to record audio along with a digital copy of what you're writing and sync the two up, but getting notes and recordings on to the computer to save or email always involved a USB cable and the company's own software.
Now though, there's a new LiveScribe - the Sky Wi-Fi smartpen (as the name suggests) has Wi-Fi so it can be connected to the internet and synced to your Evernote account.
By teaming up with Evernote, LiveScribe has added the missing link that takes notes stored in the pen and puts them straight onto just about any device you choose, as there is an Evernote app for iOS and Android, and of course your account can be accessed through any web browser.
As a bonus, notes and recordings saved from the Sky pen do not count towards your alloted Evernote storage space, so you can sync an entire notebook without fear of running out of space for anything else.
Livescribe Sky Wi-Fi Smartpen: Design and Feel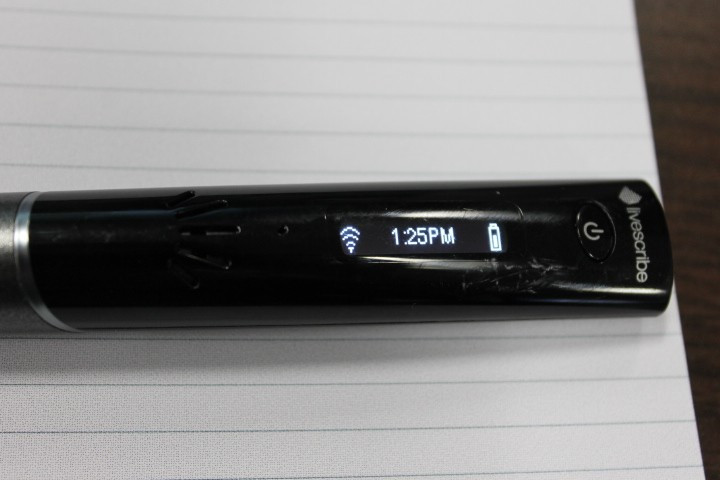 Any pen boasting an infrared sensor, microphone, screen and onboard computer is always going to be on the fat side, and the Livescribe Sky is definitely chunky for a pen.
The lower half is coloured silver and has a rubberised feel to help you grip the pen comfortably, and the top half is glossy black plastic and where you will find the microphone, speaker, display and power button.
At the very top there is a micro USB port for charging (and syncing when there isn't a local Wi-Fi network) and a 3.5mm headphone jack for listening back to your recordings.
Down at the front there is a concealed infrared sensor to record everything you write, along with the ink cartridge, which is only a couple of inches long, and we suspect will need to be replaced more often than your trusty Bic; it's a small price to pay, given how much is crammed in to what is still a relatively small device.
When using the pen we found you have to be mindful not to hold it too low down and risk covering the infrared sensor.
Otherwise, holding and using the Livescribe Sky is just like using any other Livescribe and indeed any other pen - getting used to the extra size and slight extra weight doesn't take long at all.
Having said that, the nib and ink are fairly low quality, and require you to push firmly on the paper, but this is only a small complaint.
For us, remembering to turn the thing on and off was a bigger hurdle than getting used to its size - a pen with a battery and power button is not something we're used to.
A problem we have had with the Sky pen is that the black plastic over the OLED screen scratches easily. This doesn't affect how the pen works, and the display can still be read clearly, but we would have liked Livescribe to use a more durable material.
Livescribe Sky Wi-Fi Smartpen: Performance
At first, connecting a pen to a secured Wi-Fi network and syncing it to an Evernote account sounds like a complicated business, but Livescribe has made it remarkably simple with the help of a keyboard and set of function keys and shortcuts printed inside the included notepad.
Made from special paper than the infrared sensor can 'see', the notepad has a full Qwerty keyboard and buttons such as menu controls, Wi-Fi on and off, sharing options for Facebook, Dropbox and Google Drive, and controls to playback recordings on every page.
Having the keyboard and menu controls means connecting to a Wi-Fi network is a case of turning the pen on, tapping an icon to power up the Wi-Fi, finding your network and tapping away at the printed keyboard to enter your password.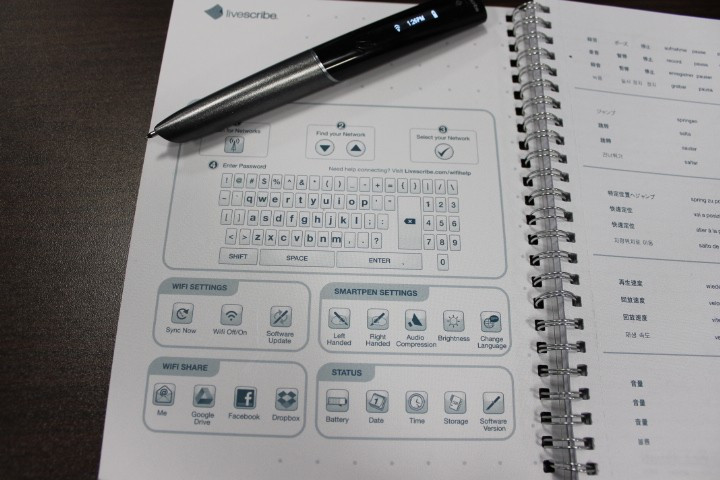 Set the time and date in a similar fashion and you're good to go - just tap the record icon at the bottom of every right-hand page in the notepad and start writing.
Tap stop when you're finished and then tapping on anything you have written or drawn will cue the pen to playback the audio recorded at that moment.
Pairing the Sky pen to your Evernote account is also a painless affair, as you just need to enter a unique code that appears on the pen's screen into your account, and from then on everything you write (with the pen turned on, of course, and in the Livescribe pad) will be uploaded to Evernote whenever you're connected to a Wi-Fi network.
Notes written when you aren't on Wi-Fi will be synced next time you connect, or you can manually sync by tapping the icon in the notepad.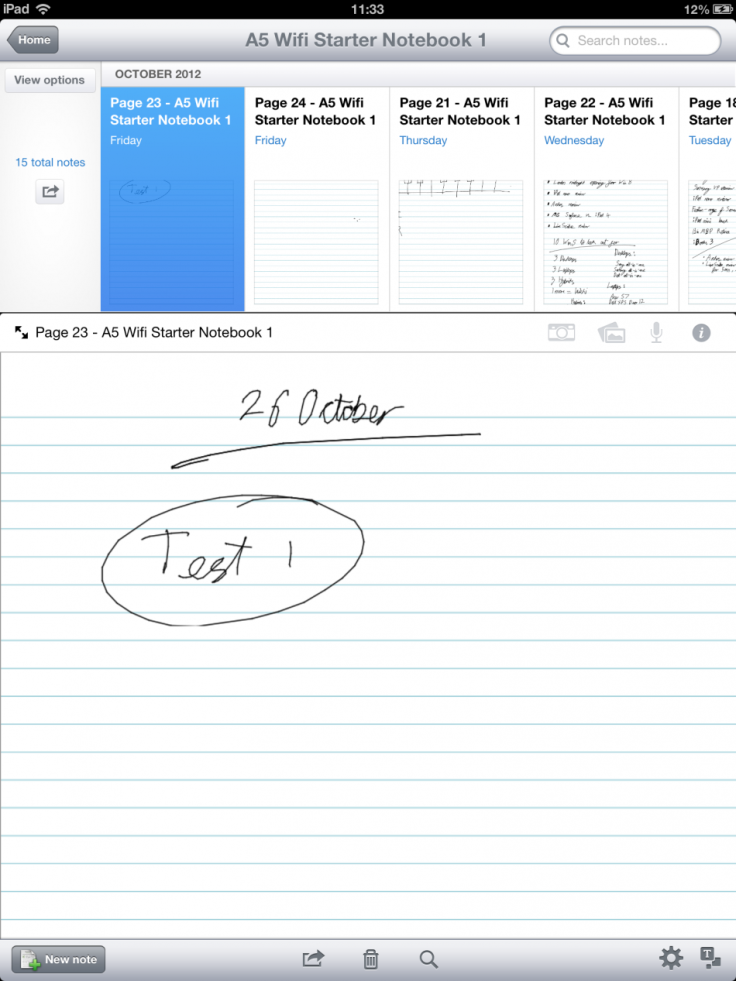 The pen comes with a 100 page notebook and two sheets of stickers - each containing two of the keyboards mentioned earlier, two sets of Wi-Fi settings icons and two sets of Wi-Fi share icons, with shortcuts to Google Drive, Facebook and Dropbox.
The pen knows where it is writing thanks to a series of tiny dots printed all over the special paper. Barely visable, the dots are in a different pattern on every page, so the pen knowns which page you are working on, and syncs your actions to the coressponding file in your Evernote account.
Sharing through Facebook, Dropbox and Google Drive is coming in Q1 2013, Livescribe tells us, but for now each page can be emailed or downloaded and saved as a PDF.
It is worth remembering that there is no way to lock a file from being modified, so if you share a page to a colleague, bare in mind that anything else you write on that page will be shared with them the next time their Evernote account syncs.
An obvious negative with the Livescribe pen is that it requires special paper to work, so anything you scribble down on regular paper will not be picked up by the infrared sensor and not synced with Evernote - and without the notebook and its function shortcuts to hand, the microphone can't be used without the correct paper, either.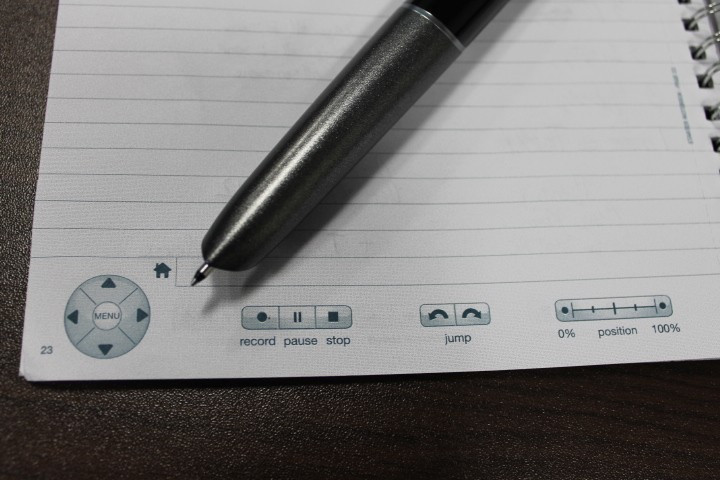 Spare A5 notebooks for the pen are sold in packs of four for £14.99, so not too much more expensive than regular notebooks, although there will be a time when you don't have the right paper to hand and are unable to upload your notes, so it's still not quite the perfect solution.
We would expect such a low-tech interface as pen and paper to be slow to react, but we were wrong, and pleasantly surprised to find tapping on the paper icons resulted almost instantly in the pen responding - whether it is to increase the volume, sync to Evernote or set the time and date, tapping on paper causes the pen to perform the task right away.
Syncing is very quick, with notes appearing in digital form online just a few seconds after we tap the sync icon on the notepad.
Livescribe claims battery life of around 11 hours of audio and infrared recording with Wi-Fi turned off, and between four and five hours with Wi-Fi on and auto-syncing every hour.
Having used the pen for a couple of weeks, we would agree with these claims, and the pen's battery life is clearly shown next to the time and Wi-Fi signal on the Sky pen's display.
Piano
The Livescribe Sky pen isn't all about recording notes from interviews or important meetings, it can also be used as a very basic piano.
A complete gimmick but definitely a smart way to show off the pen's technology is the Piano app, which tells you to sketch out a nine-key piano keyboard on the notepad, which you can then play by tapping it with the pen - and the notes sound through its internal speaker.
Like we said, a gimmick, but when did you last draw a piano and play on it?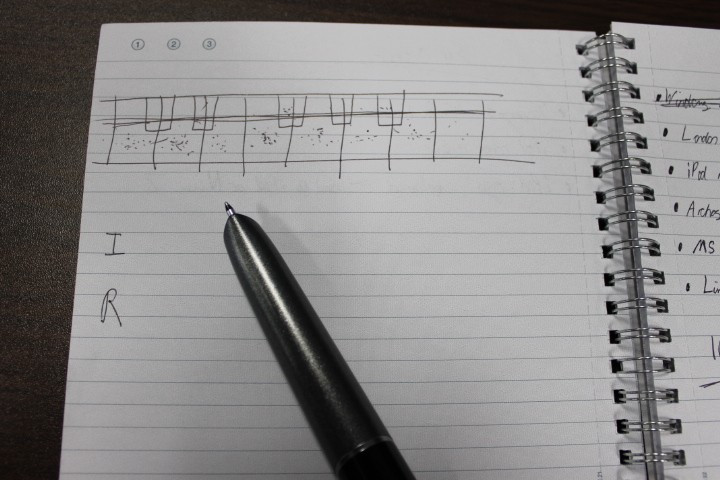 Livescribe Sky Wi-Fi Smartpen: Verdict
The Sky Wi-Fi smartpen is not something you buy on a whim, on the off-chance that you might find a use for it. At between £160 and £225 depending on storage space, the Livescribe Sky is something that you would buy with a specific use in mind.
As for that specific use, the Livescribe team came to IBTimes UK and told us that 25 percent of their customers are university students who want to record lectures alongside their written notes.
For that we can see the Sky pen being incredibly useful, and the time saved not having to mess around with USB cables and manual syncing can be spent in the library/student union bar.
We journalists would probably benefit from using the Sky pen too, but like we said, it's a device that we would only suggest you buy with a specific use in mind.
If you have the need for it, and can figure out a system for using the pen and working with your notes efficiently, then it does its job very well.
Scores
Design: 8/10
Build Quality: 7/10
Battery Life: 8/10
Ease of use: 9/10
Overall: 8/10
The Good:
Easy set-up
Syncing is fast and reliable
More comfortable than it looks
The Bad:
Works only with Livescribe paper
Expensive
Ink and nib could be better quality
Prices:
Sky Wi-Fi 2GB (200 hours) - £159.99
Sky Wi-Fi 4GB(400 hours) - £179.99
Sky Wi-Fi 8GB (800 hours), one year of Evernote Premium and leather portfolio - £224.99