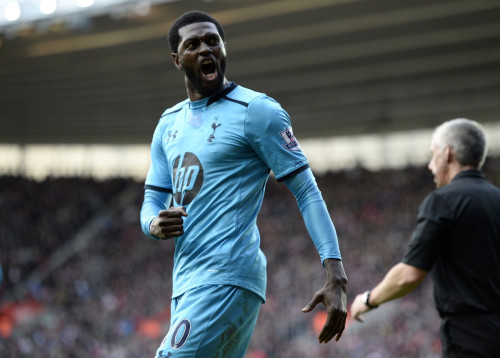 Hugo Lloris claims Emmanuel Adebayor is a complete player for Tottenham with the striker handling defensive duties just as well as his role in front of goal.
Adebayor was placed firmly back in Spurs' starting line-up after the departure of manager Andre Villas-Boas and so far for the promoted Tim Sherwood the move has worked out perfectly with the Togo international proving he is an asset to the squad.
Talk of a January exit has completely evaporated and after scoring six goals in eight showings for Spurs since the managerial changeover Adebayor appears happy and settled once more, admitting this week that proving his critics wrong is driving him to even greater success.
And Lloris has revealed that the 29 year old is also showing defensive leadership on the pitch to make him a player very much needed across the board for Tottenham.
"He's a top player and a decisive player," he told the club's official website.
"Take away the fact that he scored the goals, he worked a lot of the team. He made a lot of runs and created a lot of space around him.
"Sometimes when you are struggling in a game he's a good target, he can keep the ball and help the team to play higher up the pitch."
Spurs are currently fifth in the table and it will be a tough few months ahead if the side are hoping to fulfil their goal of returning to the Champions League.
Liverpool have stunned critics this season by making a serious play for a top four spot while United are widely tipped to recover from their disappointing first half of the season to push their way back into the mix for top-tier European football.
But Adebayor's return to the forefront will certainly go a long way in helping Tottenham in their mission particularly as the side are set to part with Jermain Defoe in the coming months with the striker bound for the MLS.