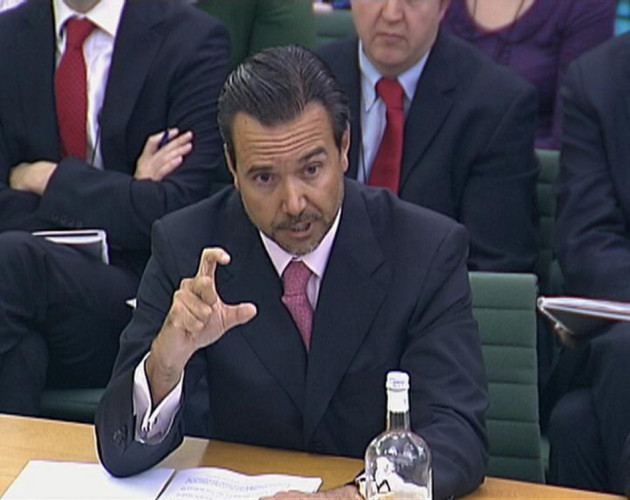 Lloyds Banking Group shares fell Thursday after the government-controlled lender posted a surprise first-half loss as costs related to the illegal selling of insurance products rose to more than £1bn.
The government-controlled bank - and Britain's biggest mortgage lender - said it first half loss narrowed to £641m from around £2.28 in the first half of 2011 as the costs of writing of bad debts fell by more than 42 percent. So-called impairments were measured at £3.1bn, the bank said. Further provisions to settle charges the bank agreed with respect to the mis-selling of personal insurance products rose £700m in the three months ending in June to around £1.1bn for the first half of the year.
"We are on track to deliver our strategic aims and we are making significant progress with our financial targets," Lloyds CEO António Horta-Osório said in Thursday's statement. "We are building a stronger and safer Group: one with a more robust balance sheet, lower exposure to risk and with lower operating costs. This is enabling us to increase our support to UK households, businesses and communities."
The bank also said that some its dealers could potentially face legal and or criminal proceedings with respect to the now global investigation of bid-rigging in the inter-bank lending market known as libor. Rival Barclays was forced to pay a record £290m fine to US and UK authorities in relation to the probe, which ultimately led to the resignation of its CEO, Bob Diamond, and Chairman, March Agius. British banks HSBC and the Royal Bank of Scotland are also facing investigations linked to the libor-rigging allegations.
"Certain members of the Group have received subpoenas and requests for information from certain government agencies and are co-operating with their investigations. In addition certain members of the Group have been named as defendants in private lawsuits, including purported class action suits in the US with regard to the setting of LIBOR. It is currently not possible to predict the scope and ultimate outcome of the various regulatory investigations or private lawsuits, including the timing and scale of the potential impact of any investigations and private lawsuits on the Group."
Shares in the group fell nearly 1 percent in early trading Thursday, changing hands at 29.02pence per share - well shy of the 73.6 pence level at which the UK government purchased its 40 percent stake in 2008. That said, Lloyds shares have risen around 13 percent so far this year and is the top-performing bank stock on the FTSE 350 Bank Index.
Lloyds cut a deal two weeks ago that will lead to the sale of 632 of its branches to the Co-Operative Group Plc, a mutually-owned lender, as part of the European Union's conditions for allowing the UK government to give Lloyds financial support. Around £24bn in loans will transfer to the Co-Operative and Lloyds is likely to lose around £700m from the entire sale, which also includes 4.8m customers and 7,000 staff.