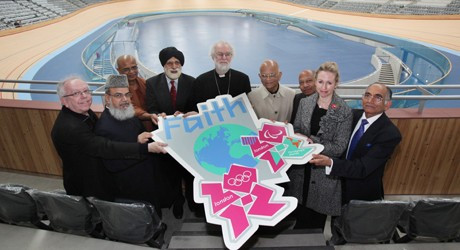 The London 2012 Olympic and Paralympic Games will have leaders representing nine faiths to celebrate and create the most diverse Games experience. With 261 days for the mega event, the nine faith leaders toured the Olympic Park on Tuesday.
Among the faith leaders, the Archbishop of Canterbury, Lord Indarjit Singh, Director, Network of Sikh Organisations and Dr. Nathubhai Shah, President of the Jain Academy UK, toured the Olympic Park and visited the Velodrome in London.
Fusion of Faith
The London 2012 Games will represent all nine faiths - Christian, Muslim, Hindu, Sikh, Jewish, Baha'i, Jain, Buddhist and Zoroastrian - in the Multi-Faith Centre in the Olympic Village during the Olympic and Paralympic Games next year. There will also be a chaplaincy service to assist around 17,000 athletes and officials, up to 200,000 staff and volunteers, and 20,000 members of the press. During the London Games, the Multi-Faith Chaplaincy Service will involve 193 chaplains recruited from the faith communities.
"The Olympic site is a really impressive testimony to what can be achieved by a clear vision, working with sustainable materials and a long-term conviction about the common good. It is very encouraging to see how communities of faith are being drawn in to this great enterprise of celebration and regeneration," said The Archbishop of Canterbury.
Shah, President of the Jain Academy UK, said: "The transformation of the site for the public good is unbelievable. The Olympic Games, sports and faith work together for the progress of the British people."
Symbolic Representation
As part of their visit, the Faith leaders and representatives helped launch the Faith pin badge, the fifth badge created to celebrate London 2012's six strands of diversity and engage all communities to support the London 2012 Games.
"The diversity of London and the rest of the UK was one of the reasons why London was chosen to host the Games and I am thrilled that representatives of all faiths had the opportunity to tour the Olympic Park and see the progress we have made," said Paul Deighton, Chief Executive of London Organising Committee of the Olympic Games and Paralympic Games (LOCOG).
"The launch of the Faith pin badge demonstrates our commitment to leaving a legacy of greater inclusion and understanding of diversity long after the Games have finished," added Deighton.