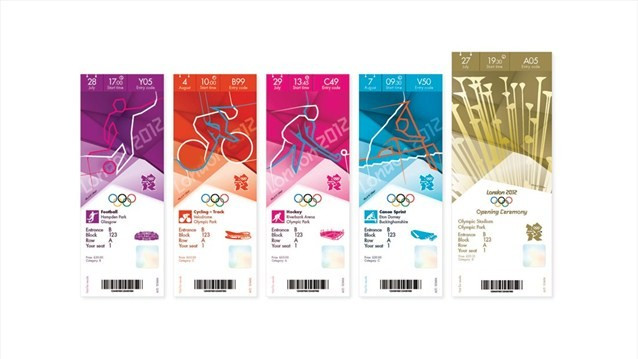 The London Organising Committee of the Olympic Games and Paralympic Games (LOCOG) has unveiled the designs of the Olympic and Paralympic Games tickets on 21 May, 2012.
Designed by Futurebrand, part of McCann Worldgroup, each ticket design features the sport pictogram and the colour scheme reflects that of each venue to help spectators reach their destination. The tickets will be printed with a hologram, a barcode and name of the booker as well as several other security features to reduce counterfeiting. This will ensure every ticket can be traced to the person who purchased it.
"With the Olympic Flame now making its journey towards the Olympic Stadium and with less than 100 days to go before the Paralympics, I can't remember a more exciting week on the road to London 2012," London 2012 Organising Committee Chief Executive Paul Deighton said in a statement.
"It is important now that people keep their tickets in a safe place ready for Games time and also to be wary of websites and organisations claiming to have Games tickets to sell. In many cases, they simply do not have them to sell and there is a real danger people will end up being out of pocket and missing out on seeing the Games. If in doubt, check our website and be 100% certain you are buying from an authorised source."
According to the 2012 Olympics official website, with Paralympic Games tickets on sale, LOCOG has also reiterated the importance of purchasing only from authorised sources. A complete list of authorised ticket resellers is available on the official website. Besides this, LOCOG also has a URL checker on this website which will confirm whether any website claiming to sell London 2012 tickets is genuine or not.
"Genuine tickets will have a number of security features built into them to minimise the risk of counterfeits. The safest way to ensure that your ticket is genuine is to only buy from an authorised seller which can be found on the London 2012 website. If you buy from an unofficial site, you risk paying over the odds for a ticket that may not exist, may not be genuine and you risk not getting to see the Games. Your personal details could even be used in other crimes," Detective Superintendent Nick Downing from the Metropolitan Police Service stated.