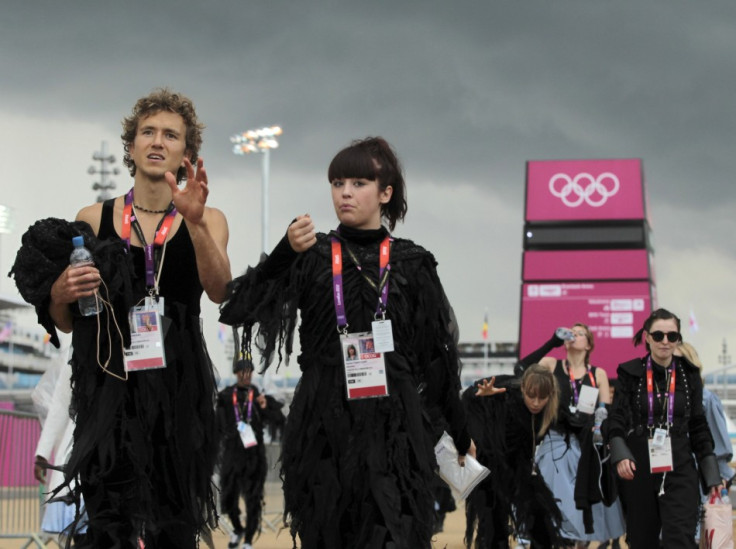 Audience at the technical rehearsal for the opening ceremony of the 2012 London Olympic Games have been asked by the event's artistic director, Danny Boyle, to not spoil the surprise for Friday's showpiece.
The hashtag - #savethesurprise - has been trending heavily on Twitter, after it was displayed on big screens inside the Olympic Stadium; viewers were asked not to upload photographs on the Internet.
The production team behind the opening ceremony to keep details a secret but they did allow 62,000 lucky people the chance to watch a dress rehearsal of Boyle's £27m opening ceremony, scheduled to kick off the 2012 London games.
It is understood the stadium has been transformed into an idyllic British rural scene, with traditional countryside cottages. However, the main content of the three-hour extravaganza is still a mystery to the world. In any case, there is not much longer to go now and the packed stadium of more than 60,000 supporters, 16,000 athletes and a global audience that could number in the billions have only to wait till Friday, 26 July, 9 pm BST.
Wireless Signal Failures Cause Security Delays
Meanwhile, a large number of people working in and around the stadium for the forthcoming Games faced lengthy transportation delays on Monday. Security guards from G4S, as well as volunteers and other Games staff, were all affected by mobile signal failures and door malfunctions on some of the city's over-ground and underground train services. The over-ground service between Richmond and Stratford was one such affected route, while tube services on the Jubilee Line and Docklands Light Railway also suffered problems.
"I can't believe they couldn't find out what was happening. We're just sitting here waiting for trains that turn up and then drive off without even opening their doors. It's ridiculous," the Evening Standard quoted an Olympic security worker as saying.
Passengers using the Highbury & Islington station were informed by staff over a loudspeaker: "There are long delays and last-minute cancellations on the Stratford to Richmond route. We are trying to get some concrete information from the Overground control room, but so far we have been unsuccessful."
It is believed commuters could not receive the latest information because the control room could not be contacted. Transport chiefs are expected to investigate the matter and with the Games due to get underway on Friday, everybody will be hoping there will not be a repeat of this incident.