Labour's Sadiq Khan has gone to great lengths to stress that he is a 'pro-business' politician during his campaign for City Hall. The Mayor of London candidate has launched nothing short of a charm offensive in a bid to get the capital's business community on side.
The Tooting MP, writing exclusively for IBTimes UK, has reiterated that message and promised to build a "true partnership" between City Hall and the capital's companies.
"As mayor, I will support businesses in London and take an active role in helping to break down the obstacles holding London's firms back and affecting their competitiveness," he said.
"This process will start by forming a true partnership. Engagement with industry – from small independents and start-ups to global corporations – will become a key part of decision-making in City Hall.
"And through setting up a Business Advisory Board – made up of experts, not political allies – I'll make sure I get direct feedback and input on policy and infrastructure planning and a full picture of the capital's challenges."
Khan, a former human rights lawyer, has also drawn on his own experience. "I want to be the most pro-business mayor that London has ever had – working with business from day one so that, in partnership, we can make London a more prosperous city and spread the opportunity that brings to all Londoners," the Labour hopeful added.
"London is an established global leader in finance, the creative industries and business services. We are also a growing force in newer industries such as tech, low carbon and life sciences."
Corbyn's man in City Hall?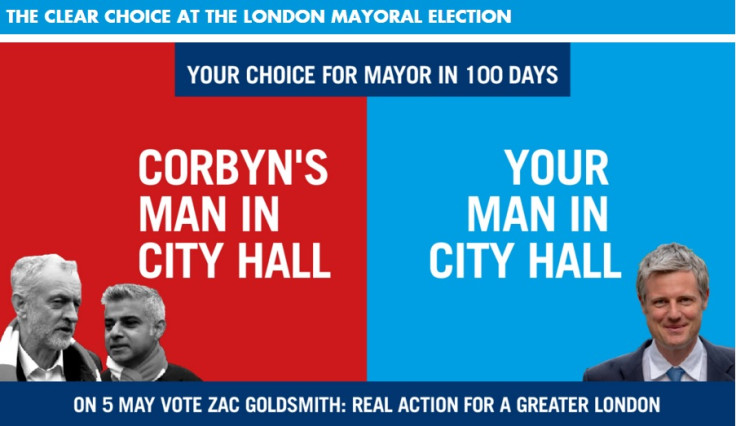 But Zac Goldsmith and the Conservatives have attempted to turn the 5 May vote into a referendum on Jeremy Corbyn and his left-wing beliefs. The Tory candidate has pointed out that Khan nominated Corbyn for the Labour leadership election in 2015, while warning of a sinister "economic experiment" from the Labour leader.
"Back Khan, and you'll get a man who gave Jeremy Corbyn his job. Corbyn and Khan's Labour want to hike taxes, it describes business as the enemy and strikes as the ultimate weapon," Goldsmith declared in an IBTimes UK comment piece.
"Khan's flagship pledge will take £1.9bn out of our transport network at a time when that network needs investment. This is not a party that can be trusted with London's £600bn economy; it's an experiment that London can't afford."
The Mayor of London election is now less than a fortnight away, with Khan continually ahead of Goldsmith in the opinion polls. The latest survey from YouGov for The Evening Standard makes grim reading for Goldsmith.
The study, of more than 1,017 people in London between April 15 and 19, gave the Labour candidate a 11 point leader over his Tory rival (31% versus 20%) on first preference votes, while Khan commands a 20% lead over Goldsmith (60% versus 40%) based on second preference votes.