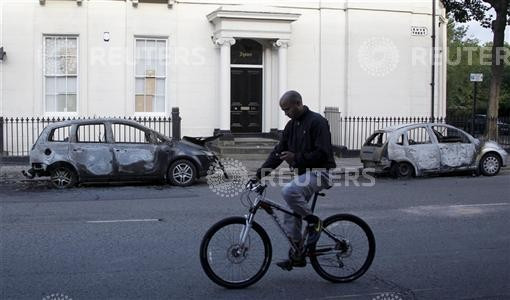 Numerous theatres and entertainment venues closed last night in anticipation of further rioting, while disrupted travel was minimal from Tuesday morning.
The 12 underground stations closed on police instruction on Monday due to the riots were re-opened on Tuesday morning and have remained open. Similarly, all buses have been running since Tuesday morning but some are reporting local diversions due to police road closures. The overground is running to all destinations and Tramlink services are running but they are not doing the Croydon loop due to damage of overground lines sustained during the riots.
A spokesperson for TFL said:"Following the demolition of a damaged building, London Tramlink has restored services to the Reeves Corner tramstop on the network, which will make access to the town centre much easier for passengers.
"Services remain suspended on the central Croydon loop and Tramlink engineers are today inspecting the extent of the damage to the track and cabling as they work to restore services as soon as possible. All other Tramlink services are running as usual."
A spokesperson added that no tube staff or assets were damaged during the riots. They have confirmed that three buses were on fire on Sunday but cannot give precise figures for the number of buses damaged during the riots because TFL simply regulate the bus service and the buses are owned privately. TFL are currently waiting to hear from the private owners regarding damage to buses.
London's Transport Commissioner, Peter Hendy said: "Good services are operating across London's transport networks this morning (Wednesday), as they did yesterday and largely did on Monday night, ensuring Londoners can get to work and get around. Some bus routes remain on local diversion and Tramlink services are partially suspended."
Numerous cinemas, music venues and theatres were closed last night as a precautionary measure in case of further rioting.
Picture House's cinema Website said: "Please be advised that having taken advice from the police, The Ritzy, Clapham Picturehouse, Greenwich Picturehouse and Stratford Picturehouse will remain closed for the rest of Tuesday 9 August."
Reported theatre closures included Battersea Arts Centre, The Churchill, The Roundhouse, The Union Theatre, Landor Theatre, Arcola Theatre and King's Head Theatre.
The King's Head said that their decision was not taken after advice from police.
"It was not at the advice of the police that we closed but in the interest of the safety of our cast, staff and audience at the theatre," said a spokesperson for The King's Head theatre.
They added: "The safety of our cast, staff and audience are our priority, should we have opened last night we felt we may have been putting people at risk, therefore the decision has was made not to open. The show tonight is still planned to go ahead and will start at 7.15pm as usual."
The Albany did not have any events last night but "were advised by the police to close our building at 2pm on Tuesday, which we did."
Proud in Camden also closed, as did Electrowerkz, according to twitter announcements.
Twitter users also announced that gigs at the White Heat Club, Hoxton Square Bar and Kitchen and Favela Chic were cancelled, as well as events at Café OTO and The Alibi. Bikrim Yoga Classes in Kentish Town were cancelled from 6pm.
O2 in Islington cancelled their Tuesday music event.
A youth project in Whitehawk, an underprivaleged area of Brighton, cancelled a trip to London due to the riots. Crew Club have since raised £400 towards a replacement trip.
"We are disappointed that violent elements have given young people a negative profile. We believe strongly in investing in preventative youth provision that addresses social inequality & employment opportunities," said a spokesperson for Crew Club.
To Donate to Crew Club go here.
If you were affected by closures due to the riots e-mail j.rennison@ibtimes.co.uk or tweet @JARennison