Italy at the Polls: Buffoon Berlusconi Campaign Tops Most Grotesque Poll Moments [VIDEOS]
PDL leader Silvio Berlusconi's electoral run characterised by controversial TV stunts and crass remarks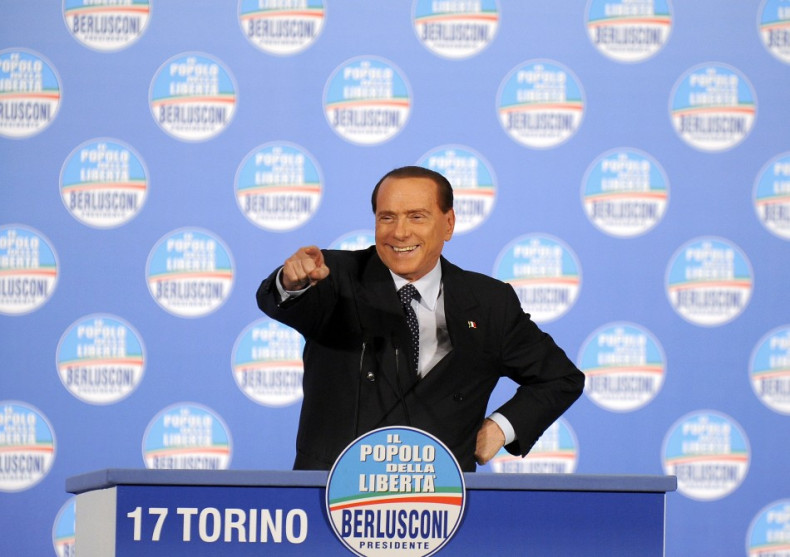 Silvio Berlusconi's political comeback has been sprinkled with hilarious as well as grotesque moments.
Berlusconi is known for being a charming and skilled orator and has managed to rise from the 7 percent in the polls in November to 28 percent in the last few days before Italy's election.
The rise in popularity of his People of Freedom (PDL) party is largely down to his presence in front of a camera.
But his exuberance has often led the media tycoon to overact during television interviews and political rallies, relying on off-the-cuff remarks hated by his opponents and loved by his supporters.
Here is a collection of the best and worst of Berlusconi's 2013 electoral race stunts.
New girlfriend, less taxes
Berlusconi started an impressive series of TV appearances that have pulled up his electoral ratings with an interview on the traditional Sunday family show Buona Domenica broadcast on his own Canale 5 channel in December.
Comfortably seated in a white armchair, Berlusconi used the show to make two important announcements: he had found love again and he would cut tax once re-elected.
"I found myself a fiancée, it is official," he told the audience. "Her name is Francesca, she is a beautiful girl. She is beautiful on the outside and even more beautiful on the inside.
"Her moral foundations are very strong, she loves me and I love her back," Berlusconi said before whitewashing the bunga-bunga party nights scandal as just a manifestation of loneliness and grief.
"It was a time I was feeling lonely," he told the host, Barbara D'Urso. "My mother had passed away, my sister died and I had just got divorced."
A few minutes earlier he had made the pivotal promise of his electoral campaign: to abolish an unpopular property tax brought in under Mario Monti with the backing of PDL MPs - a detail that he omitted.
Later in the campaign, Berlusconi took the tax-cut pledge as far as promising to return in cash the amounts Italians had already paid. That sparked allegations that he was buying votes.
You need an otolaryngologist
Lowering taxes is Berlusconi's electoral forte, so when La 7 television journalist Lilli Gruber blamed him for failing to do so during previous terms as PM, he did not take it too kindly.
"I'll give you the number of my otolaryngologist, because you seem not to hear what I'm saying," Berlusconi told her.
"Your journalistic style is not objective as you've used the programme just to attack me," Berlusconi said.
"I told you I've become a granddad for the seventh time and you haven't even expressed your congratulations." Gruber had already wished Berlusconi all the best over the birth.
Then Berlusconi reneged on a promise to leave the journalist a plaque bearing the achievements of his previous governments' accomplishments.
Plaque hitting and chair cleaning
A few days later, he used the very same plaque to hit another journalist on the head.
During another La 7 television show, Marco Damilano, of Italian weekly L'Espresso, told Berlusconi he "hadn't been able to do a good thing" in more than 10 years of rule.
"I've done a lot," replied Berlusconi. "Look, here is what I've done," he said waving the plaque before using it to jokingly beat Damilano.
A few days earlier, he appeared on a different La 7 political show, hosted by one of his fiercest media adversaries, the journalist Michele Santoro.
Towards the end of the show, Berlusconi hijacked the programme by taking the chair of its star commentator, Marco Travaglio, and reading to camera a list of libel convictions against Travaglio, a Fatto Quotidiano newspaper columnist and harsh critic of the PDL leader.
Before returning to his seat, Berlusconi theatrically cleaned the chair with a handkerchief and put on up a disgusted expression.
Booze and sexist remarks
As his share in opinion polls started to climb Berlusconi got more excited.
At a political rally, he pledged to get drunk if Mario Monti, the technocrat prime minister, and his political allies Pier Ferdinando Casini and Gianfranco Fini did not get enough votes to be elected.
"There is a good chance I might get drunk within a few days. We should put up the champagne, or better the prosecco. If Monti, Fini and Casini are left out of the lower house I'll get drunk."
His lack of tact had been highlighted again a few days earlier at meeting organised by a renewable energy company. Berlusconi, who likes to be referred to as "the great seducer" embarrassed an employee with sexist remarks.
"You come? How many times do you come? Can you turn [sic] a last time? It's a possible ... I'll leave you my phone number," Berlusconi said, while leering at the backside of 30-year-old Angela Bruno in front of a large audience. He later apologised.